The Thinslices methodology is based on continuous learning. In any development process, it is important to focus on stimulating the mind with creative and innovative activities that can be performed during one's spare time. This is why we've looked into some apps for learning, that can help any individuals, regardless of background or education, enrich their knowledge in any field.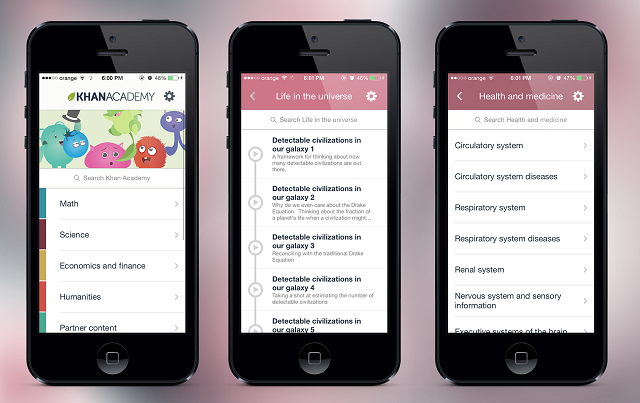 Khan Academy is one of those best learning apps for smartphones fit for the iOS 6, with the help of which anyone can learn almost anything in the world. There are more than 4000 videos and courses available inside the platform, that cover subjects like K-12 Math, Biology, Chemistry, Physics, Art history, Civics, and even Finance.
People interested in studying the IT field now have the opportunity to learn the fundamentals of computer science.
Thanks to Khan Academy, pupils can get higher scores in their SATs. Users can track the progress of their learning process and win credits while they watch videos. In fact, the more videos one watches, the more credits one gathers. Courses are completely free of charge and users can even download and view them offline.
For non-English speakers, the iPad app supports subtitles.
Khan Academy is ultimately one of the most famous and acclaimed mobile apps and it can be installed for free, from the iOS app store.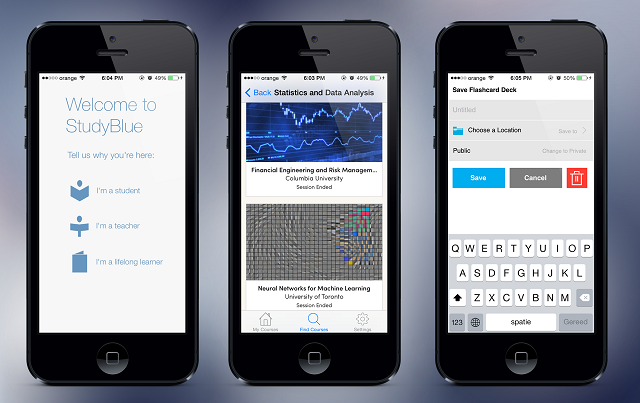 StudyBlue is an app currently used by 6 million students. It's free to download in the App Store, but some features require a paid account.
Users create their own study sets and therefore have the opportunity to practice what they have learned, with the help of flashcards. The latter can be created only when an Internet connection is available. Study times and learning processes can be personalized, and the app allows users to select from multiple study modes. Any user understands how to use the app in order to boost their learning process thanks to study guides, which thoroughly explain to students how to maximize their performance.
Once they choose StudyBlue, students benefit from a number of advantages, such as setting reminders and selecting from various quizzes in order to test themselves; collaborating with classmates is also possible, and even sharing study materials.
Using the app is conditioned by the creation of an account on the StudyBlue.com website. It is one of those apps for learning that can be downloaded for free from the App Store. It requires iOS 6.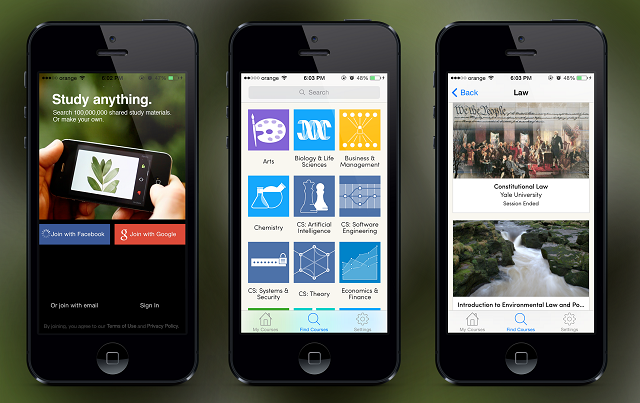 Coursera is yet another app suitable for studying which contain more than 600 courses, that include 20 subject areas. These can vary between Arts and Mathematics to Artificial intelligence and Medicine. The app includes courses from more than 70 partner institutions, including some of the most famous American and Worldwide universities, such as Yale, Johns Hopkins, Penn, London U, Universiteit Leiden, Stanford, University of Western Australia and the Technical University of Denmark.
The courses that come with this app are in 12 languages: 500 of them in English and over 100 in Chinese, French, Spanish and Russian. Moreover, the app supports translation even in more obscure languages, such as Traditional Chinese, Bokmal and Nynorsk.
Users have the possibility to split lecture into modules, according to their schedule, so they keep track of their progress more easily. These short videos somehow assist users in studying some field or the other, particularly because it allows them to view courses during their spare time or their transit to and from work.
The Coursera application can be connected to a Coursera.org account.
This mobile application is free to download in the App Store and it requires iOS 7.
YOU MIGHT ALSO BE INTERESTED IN
The Essential Role Of Trust In Product Development
As you get ready to build your product, you'll need a team you can trust to take the best possible decisions.