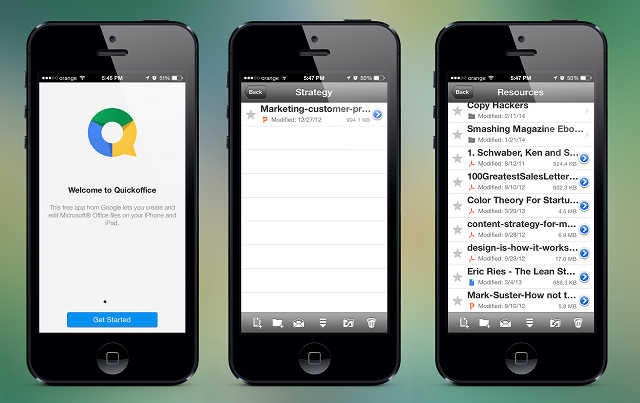 Quickoffice is a mobile application that is easy to use with Google accounts. It lets users save documents in Google Drive.
Files can be edited using the following editing programs: Word, Excel and Powerpoint. Quickoffice has all the functionalities of Google Drive, in the sense that users can share documents and folders with other people. With the help of this mobile app for managing documents, individuals can send links to their documents, therefore allowing visual or editing access to email recipients. The application permits users to open PDF files; however, editing them is not possible.
According to reviews and from what we have noticed after installing the application, Quickoffice has reliable spreadsheet capabilities and a short charging time. Inserting functions and formulas must be done manually. The app was recently updated, so it now offers 10 GB more of available space.
After purchasing the app in 2012, Google has recently made it free to download for iOS devices. On the other hand, Android users still have to pay a minimum fee.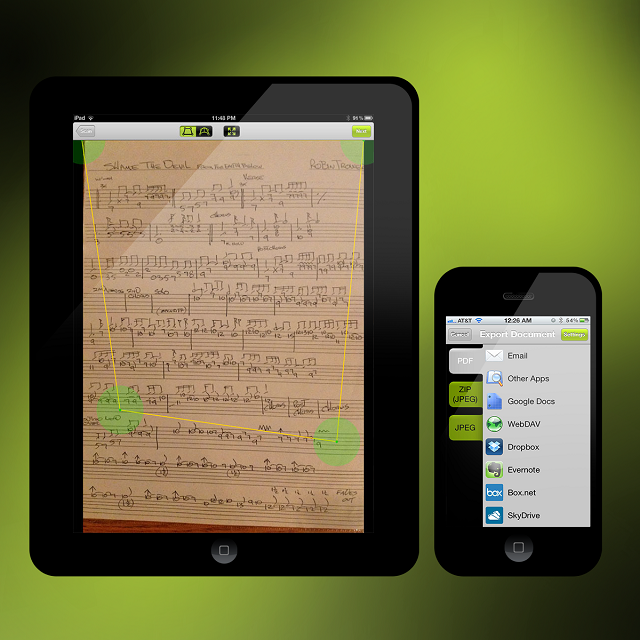 Unlike other applications for managing documents, Doc Scan helps users scan them.
Interpreting images is possible even in the case of wrinkled documents. Doc Scan supports auto-detection when scanning photos, and it removes shadows both in the case of the latter and in the case of regular papers. In order to make writing more readable, the application uses brightness and contrast to favourably edit images.
Eager learners will be thrilled: markings and highlights can be performed directly on scanned documents. Scannings are automatically saved as PDFs. Users' personal JPEGs and PDFs can also be imported to Doc Scan from other apps or from their phones.
Document management is also made possible by grouping or saving them directly to folders. Scannings can be automatically sent to other users, especially since the app supports communication with users from over 100 countries. For fewer complications, Doc Scan can connect to a user's Facebook account, so one has the possibility to automatically upload a scan on one's timeline.
Faxing documents is also possible, but at a cost. The latter depends on the number of pages of the document, and on every country's individual pricing.
The app can be downloaded for free in the App Store. By upgrading to the paid version, users are able to export scannings to Dropbox, Evernote, OneDrive, Google Drive and other file hosting platforms.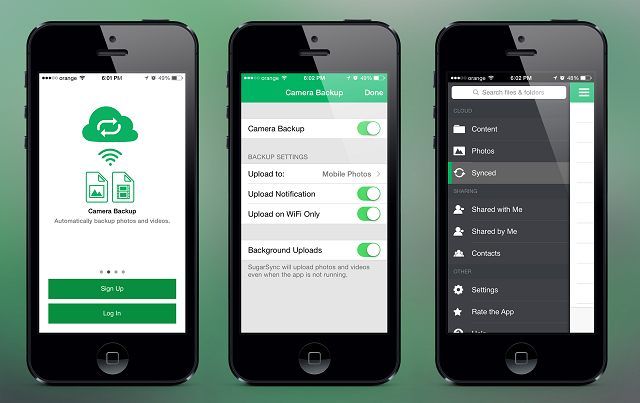 SugarSync is a document management app that helps users manage documents from their cellphones, with the help of their personal computer.
Through the internet connection of mobile devices, the application syncs with one's computer. Therefore, the app can be used for reading documents, viewing photographs and videos, as well as for playing music.
Keeping in touch with social media accounts is also made possible with the help of SugarSync, since files can be posted on the respective networks. Sharing documents can be limited to a specific number of individuals, and accessing them is possible by an invite.
Using cloud search, SugarSync lets people access files from their personal computers, even when they are not at home.
SugarSync is free for the first 90 days of use. The app can be downloaded in the App Store.
YOU MIGHT ALSO BE INTERESTED IN
The Essential Role Of Trust In Product Development
As you get ready to build your product, you'll need a team you can trust to take the best possible decisions.