This week we've thought about writing something for the eager learners: 3 language learning apps.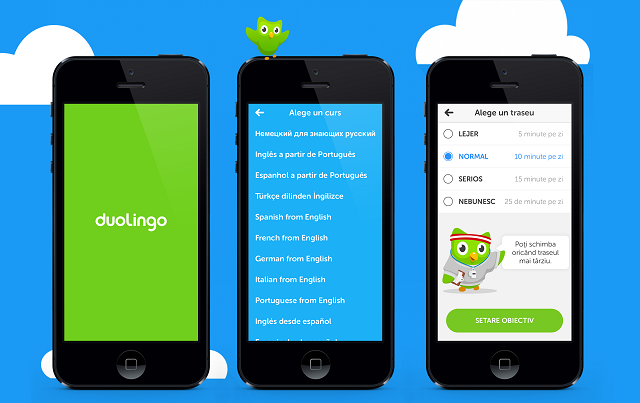 Probably the most well-known app for iOS devices for language learning, Duolingo was constructed on 2 ideas. It was designed both for people who are interested in studying, speaking and writing in a foreign language, and for individuals that want to translate texts from the internet.
Duolingo generates specific learning plans for every user. For instance, if you're a native English speaker and would like to study another language, the app starts by asking you to translate simple sentences. Although it may seem that beginners aren't capable of completing such complex tasks, Duolingo specifically chooses sentences that are appropriate for every user's level and for every user's native language. With the help of the application, learners can also compare how a word is written and pronounced in various other languages at a time.
Another feature that's appreciated is the fact that one can practice with the help of other users that are interested in studying the same language. Moreover, an individual can practice with the so-called "robot" of the app and all by himself if he doesn't feel like interacting with someone else.
Duolingo combines playfulness and usefulness, all the while teaching people how to speak new languages.
Duolingo is free to download in the App Store.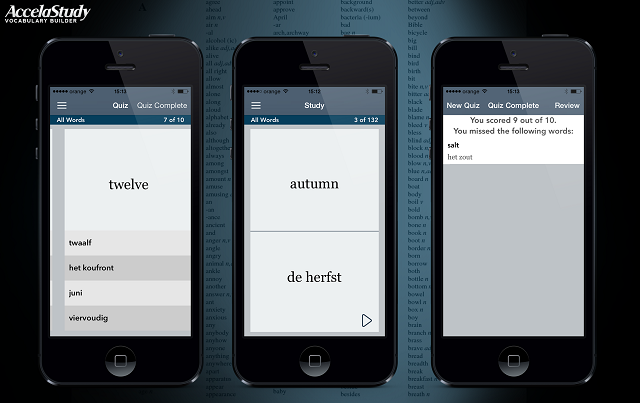 AccellaStudy is an app that is currently used by more than 6 million users worldwide. It is basically a software specifically designed for learning foreign languages, but every user has to download a different version of the app if they desire to learn more than one language at a time.
People interested in using AccellaStudy for studying a new language can experience the following features:
the

chance to hear the pronunciation of words from the mouths of native speakers.

with

the help of audio and multiple choice quizzes, people can test their ever-growing knowledge of the language they have started studying

the

app keeps track of your progress by organizing data into statistics

there's

a dictionary inside the app that users can consult as frequently as they feel the need to

the

hands free feature gives users the opportunity to study even when they're jogging or engaged in other physical activities

probably

the most valuable feature the app offers is complete access without an internet connection, which basically means that all data is kept inside the application.
With a polished interface and quite an elaborate learning method, AccellaStudy promises to help future users to increase their fluency in a new foreign language.
AccellaStudy has 2 downloadable versions available in the App Store: a free and a paid version.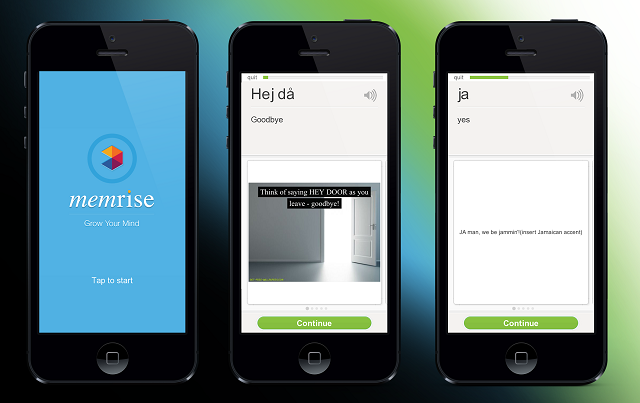 Memrise is another language learning application for iOS-powered devices.
The app combines education, entertainment and community.
People who want to study languages with the help of Memrise are required to create a user. An individual has the option to select one language from the over 200 that are available inside the app. The learning program starts with a classical educational plan, that allows students to view entire language courses.
After the initial learning process is initiated, Memrise appeals to the long-term memory of the user, by letting information settle in with the help of interactive games. Mnemonics and flashcards are used in order to guarantee recently studied data is not forgotten. Memrise also boosts users' confidence by continuously presenting them with statistics about their learning processes. Individual memory is graphically represented as a garden that students have to water with the help of study. This way, people are encouraged to nurture and feed their memory. They are also notified via e-mail if it is necessary to water the garden again. As they progress, the difficulty of games increases.
Synchronization between the mobile application and the desktop version of Memrise is made through an internet connection. Yet the app is also available offline.
Memrise can be downloaded in the App Store and it is free of charge.
| | | | |
| --- | --- | --- | --- |
| | Design | Usability | Popularity |
| Duolingo | ***** | ***** | ***** |
| AccellaStudy | **** | **** | *** |
| Memrise | ***** | ***** | **** |
YOU MIGHT ALSO BE INTERESTED IN
The Essential Role Of Trust In Product Development
As you get ready to build your product, you'll need a team you can trust to take the best possible decisions.