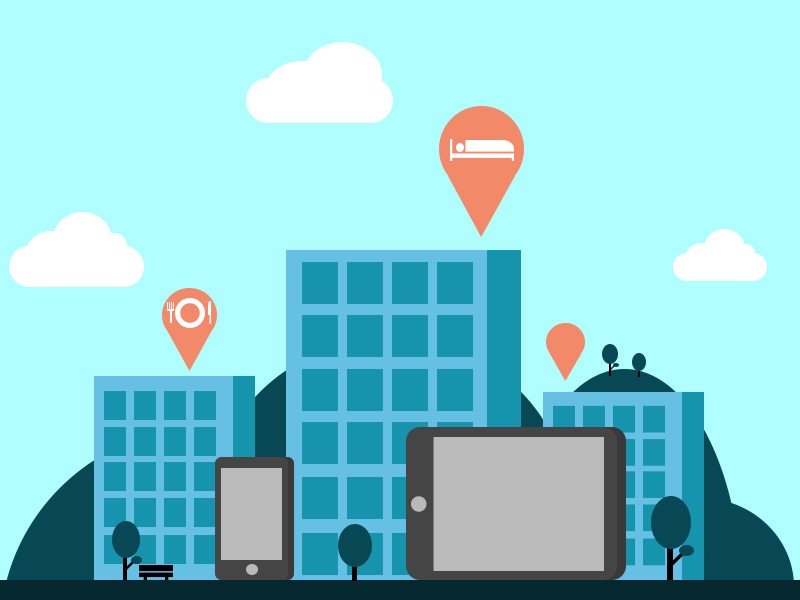 2014 challenges the events (and event organizers) world. Organizers are ready to take real-time audience engagement to the next level, while offering new possibilities for meetings and conferences.
Having this year`s event technology trends in mind, developers know mobile event apps should include must-have features like: personalized schedules, presenter listings, social media integration, interactive maps, news feeds and attendee responses. Therefore, treating attendees more like participants (including the ones who can not physically be present, but need to share their opinions) will increase the engagement rate.
Let`s have a quick look at 4 different types of event apps and highlight the new stuff they bring on the table:
1. YPlan – event discovery app
Yplan is the coolest app you can use to enjoy London, San Francisco and New York like never before. The app answers questions such as: "What am I doing tonight?". Plus, you can book tickets without having to print anything. Imagine how is it to have everyday access to a library with various events spanning music, comedy, theatre etc.
This year, YPlan will make it possible for you to rate them. New feature, so stay tuned! Until then, here are the main things you can do with this app:
see an updated list of events every night
book

in two taps

discover discounts and special offers
store tickets in Passbook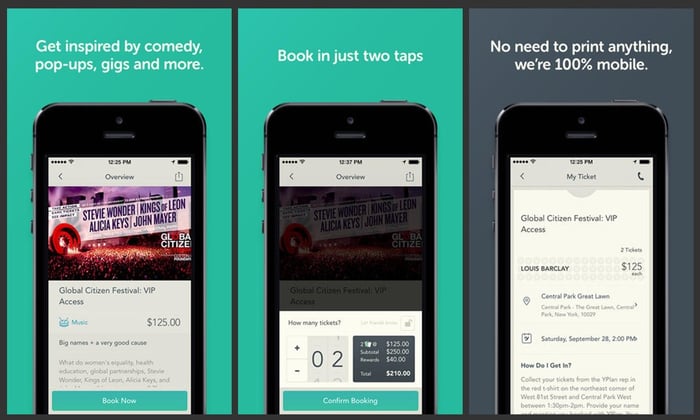 Focused on customers` needs, the app will be able in the near future to show conversations. YPlan Co-Founder Vik Jucikas explains this idea by saying that this "social component" won`t let users feel alone. Creating communities is a big part of the whole innovative thing.
2. Pittcon 2014 – event conference app
Pittcon is the world`s largest annual conference and exhibition on laboratory science. Developing this new mobile app has had a big impact on increasing attendee conversations through session commenting for in-context and on-topic social communication.
Participants can:
build agendas
browse the extensive conference
receive real-time updates, and stay in touch with peers, by exchanging contact info with them
send session notes to their email inbox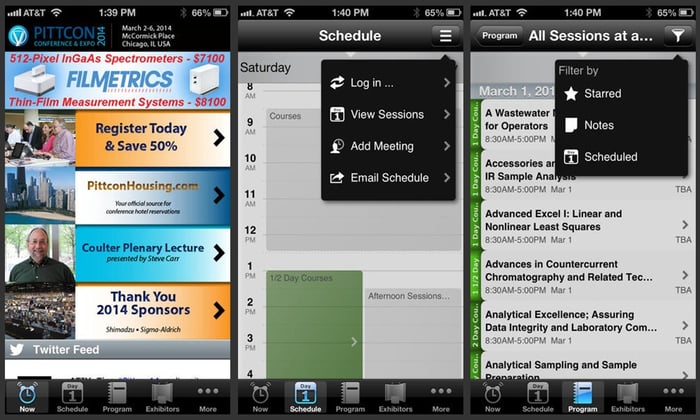 Coming up with this kind of app not only helps attendees, but the company as well, as Marketing Assistant Jenna Sabbot said: "Providing an app is not only beneficial to attendees, but helps reduce the costs associated with producing a Final Program and also contributes greatly to our "go green" initiatives."
3. Superevent – full feature multi-event tool
After having worked on Superevent for over 2 years, we are proud of contributing to the first major release of what we consider to be one of the best event apps out there.
Most event apps focus on a single event at a time and usually they are developed specifically for that single occasion. For event attendees, having a multi-event introduces a strong social component, while at the same time reducing costs for event organizers.
Here are some of the features that make Superevent for attendees great are:
see

who will attend the event

(including speakers)
get in contact with participants by having access to their Social Media profiles
get the agenda
use the map to search for the location or to get directions
use the

real-time

chat to start conversations and keep in touch with speakers and

other attendees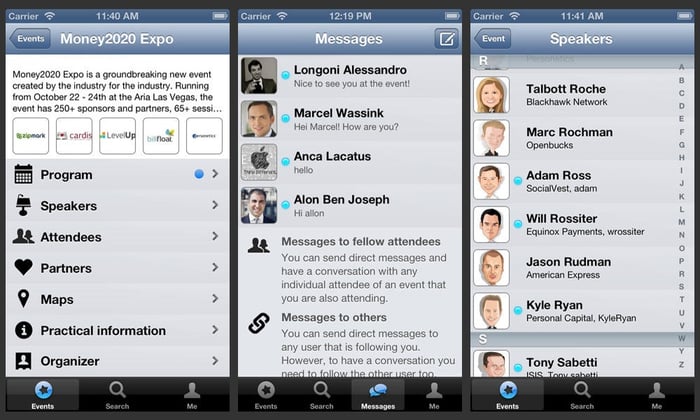 And the most important things we have learnt while developing the Superevent app:
Make sure your app works under any circumstances! We created an advanced cache & sync mechanism which gives you

real-time

chat, as well as event updates even with slow internet connection.
Even if the events are "data-intensive", don`t forget to put a lot of work into the

design!

Offline support is critical. People usually plan their attendance while flying to the event or during the event.
4. Doodle – mobile meeting app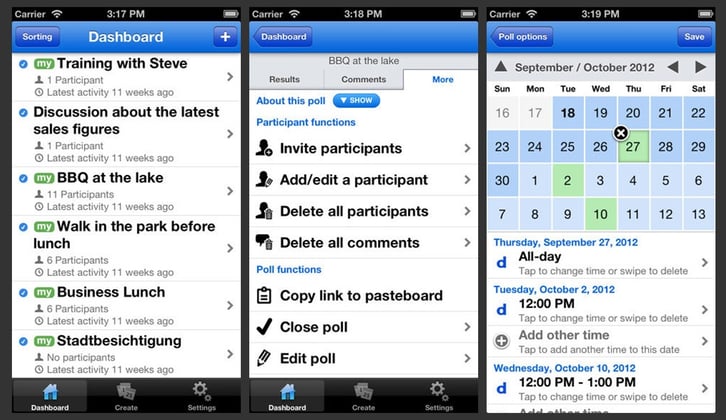 Being the world`s leading online scheduling tool, Doodle simplifies your life by finding the right date and time for a group of people to meet. Connecting people is an important factor these days. Doodle`s main features sustain this opinion, by:
initiating and tracking

meeting requests from the iPhone

being able to invite participants using the iPhone address book

having an optimized

results list

suggesting the best option for the meeting

communicating

with participants using the comments feature

connecting

the MyDoodle account to stay in sync with the

web

dashboard
Why do planners need a mobile app?
Mobile is a growing space that planners have to focus on. Studies show that 25% of smartphone owners aged 18-44 say they can`t recall the last time their smartphone wasn`t next to them. We are pretty sure there are few times when they are not connected to the web. So this is a big challenge for event planners. Besides reducing print costs, a mobile app can drive interaction and networking opportunities, and keep everyone informed of event updates. As you can see, the apps above have some basic characteristics in common:
they can be adapted to multiple devices
they can be accessed with no connectivity
they allow push notifications so that users can see the updates in real-time.
In 2014 events go mobile. So what do you think your event app should include?
See you in the comments!
YOU MIGHT ALSO BE INTERESTED IN
The Essential Role Of Trust In Product Development
As you get ready to build your product, you'll need a team you can trust to take the best possible decisions.