We know entrepreneurs have a hard time managing the triple Ts: time, tasks and teams. We've selected 3 of apps for entrepreneurs that we've considered most useful and easy to use. They are all free to download in the App Store.
Toggl Timer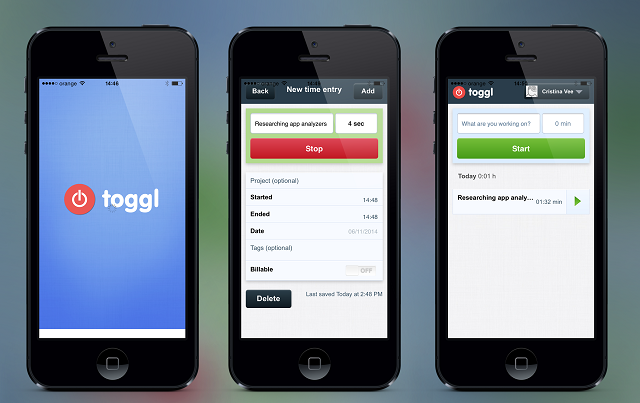 Toggl is a time-tracking iPhone and iPad app that enhances productivity by putting together an organized agenda.
Users must introduce details about meetings, projects and other tasks they need to attend to during a particular day. Once they have started resolving them, they must click the 'Start' button so that the application calculates the time one user spends on a specific assignment. A simple click on the 'Stop' button will make Toggl cease recording minutes. If one has however forgotten to end a task, doing so is possible later on with the help of a manual mode, that makes recording time in the past possible.
Another useful feature of Toggl is the fact that it categorizes responsibilities according to tags. Thus, one can find out how much time is wasted on each type of activity every day. The app can also be used for setting financial goals; it basically makes connections between time spent on projects and the revenues that resulted from them.
Toggl Timer thoroughly explains how a day went by. At the end of a day, users can see graphs, pie charts and other statistics that show users what the ways they spend their time are.
Another perk of using Toggl is that it's also available offline. An internet connection isn't mandatory unless you want to update the app.
Toggl Timer is an inspiration for easy application design.
Winstreak - Strategic Coach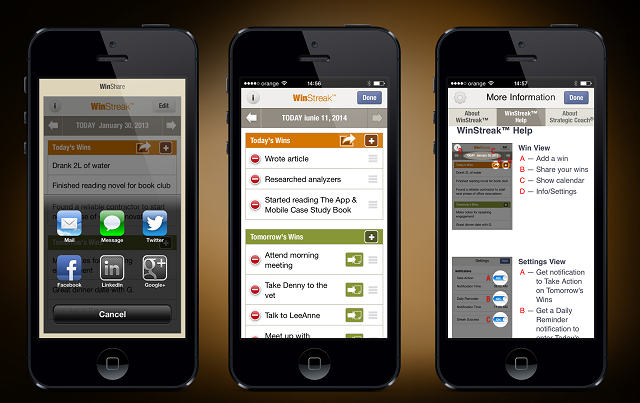 Winstreak is a free iOS app that combines productivity with positivity. Thanks to its appeal and its ability to make people feel good about their productivity, Winstreak has become quite popular. Winstreak users are asked to set goals on a daily basis. They bear the name "Today's wins".
What sets this application aside from the rest is that regardless of the number of tasks that you accomplished or not, it underlines the wins instead of putting an emphasis on losses. In the evening, it's necessary to set up a plan for the following day ("Tomorrow's wins"). This is helpful from two points of view: it brings optimism to users for achieving daily assignments and it makes them feel excited about the things to win during the following day. Winstreak boosts both motivation and encouragement.
Evaluating how productive the day was depends on every individual. Staying focused is a big part of remembering to be hopeful, though.
Pivotal Tracker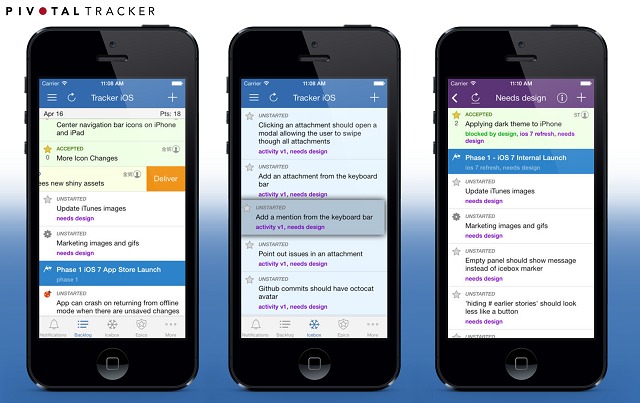 Pivotal Tracker is a team management tool designed for iOS devices. The application helps with overseeing a team's tasks. It also lets users create new responsibilities, manage existing projects and prioritize assignments.
Tasks can be introduced manually and individually. The app tracks whether the job has begun, whether it is in progress or whether it has ended. After a chore has reached the end, Pivotal Tracker analyzes the information and presents a report, containing graphs and statistics that announce users if they are following the right road.
Pivotal Tracker utilizes the users' phone camera to take shorts and distribute them to the team, at a click's distance. This comes in handy when planning or sketching a project's steps, especially if one is out of town.
The app lets users post stories and comments, so it creates communication channels between colleagues and between members of a team and project managers.
Last, but not least, with the help of Pivotal Tracker, one never loses track of what they are meant to do and when they are meant to do it.
| | | | |
| --- | --- | --- | --- |
| | Design | Usability | Popularity |
| Toggl Timer | ***** | ***** | **** |
| Winstreak | *** | ***** | **** |
| Pivotal Tracker | **** | ***** | ***** |
Happy app-ing!
YOU MIGHT ALSO BE INTERESTED IN
The Essential Role Of Trust In Product Development
As you get ready to build your product, you'll need a team you can trust to take the best possible decisions.