Basecamp is a project management app and a group collaboration tool. It was launched in 2004 as 37signals' first product. The tool includes features for schedules, tasks, files, and messages. Whether you're a business owner, a project manager, or you are working on a project, Basecamp is the right way to go. Basecamp helps you better manage and understand the project specifications. Therefore, you are able to define and delegate work, establish deadlines, review work in progress, evaluate what's left to do. If you think of saving time, Basecamp has a solution for that: you can schedule meetings, keep stakeholders up to date, give feedback.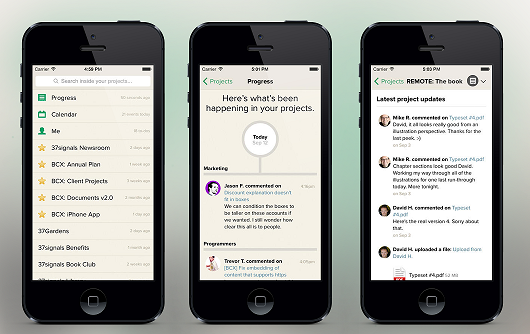 These days, smartphones are consumers' companion for their daily tasks. According to a new study completed by Google, percentages for smartphone usage in the US look like this: 96% of people use them at home, 83% use them on the go, 76% in a store, 70% in a restaurant, 69% at work. Keeping these numbers in mind, we think that, at some point, every business must go mobile in order to answer its customers' needs.
Over the years, instead of developing native apps, Basecamp managed to satisfy requirements by following the trend and sticking to the mobile web. Conversely, in 2013 the company came up with its first official iOS app.
Basecamp's first official iOS app finally hit the App Store.
Given that iOS isn't as flexible as HTML and CSS, the company used a hybrid approach. Therefore, the page stacking behavior and navigation menus are native, while the rest of the screens are based on web app technology.
The application is free and uses a nice interface in order to add some personality. Thanks to its clear design, users can easily go through all the steps needed in order to complete an action.
Before starting to use the app, they have to log in with their Basecamp desktop account. After completing this task, they can check in on their projects from anywhere in order to see the latest updates on each project. This is a little bit frustrating for those who aren't regular users, and thus, don't have an account.
What does Basecamp project management app provide?
Accessibility: Users can check in on their projects from anywhere. They can access and monitor all their work from the Basecamp app. Users can easily bounce in and out of projects.
Communication: They can jump into discussions, view and cross tasks off to-do lists, attach files and view the project progress. By reading and adding comments, the app encourages feedback.
Productivity: Users can view every discussion, list, file, text document and forwarded email in their projects. They can create new discussions, lists, add comments and upload files to comments. They can add new tasks to existing to-do lists. They can create and edit text documents.
The iOS app is very similar to the web version, except it doesn't allow users to start new projects and see archived projects from their iPhone, and it doesn't have an Everyone page. Nevertheless, it offers them the opportunity to see all the members in a project. Moreover, they can delete project items, but they can't restore them from the app. In order to do so, they must log into Basecamp on their desktop.
Conclusion
Basecamp is a great place to post your work, brainstorm ideas with your colleagues, store important project assets (logos, documents, etc), and present work to managers.
Let's see why you should give the iOS app a try:
it's free and easy-to-use;
it keeps you updated about your projects;
it helps you keep track of each task;
it saves you time;
it increases productivity (you can check in on your projects from anywhere).
YOU MIGHT ALSO BE INTERESTED IN
The Essential Role Of Trust In Product Development
As you get ready to build your product, you'll need a team you can trust to take the best possible decisions.