This week we've looked into some job searching apps that can help job seekers find employment both easily and efficiently.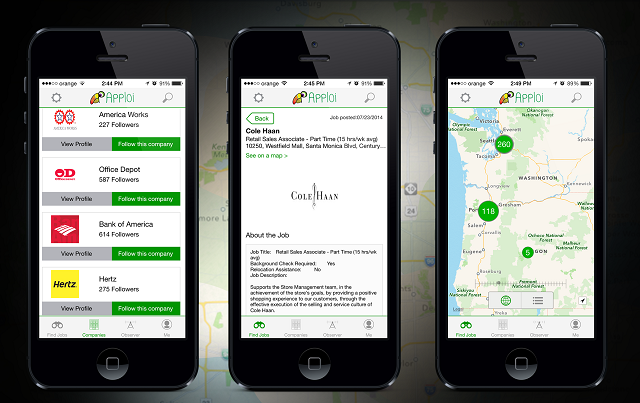 Apploi Job Search by Innovative CV Corp helps users find openings in the following domains:
retail
hospitality
service
support
The app lets users set up their resumes, their job applications and even upload video interviews. Finding and applying for jobs can take place to and from any location. In fact, Apploi Job Search displays job openings depending on the location of the user and their job seeking preferences. For instance, if one has considered a position in customer support, Apploi displays a series of similar jobs that are available in the same field.
Unlike other apps that require users to enter information every time they create a job proposition, Apploi allows individuals to introduce data one single time. The app then memorizes it, and completes a dossier that provides future material for subsequent projects. Users are always able to review their application before actually submitting it.
Apploi also works as a communication channel between companies, their human resources specialists and job applicants. In fact, business representatives can ask candidates questions. Since individuals can apply with video presentations and audio scenarios, employers get to know whether or not there is a point in asking the candidate to come by their offices.
Apploi can connect to Dropbox, therefore allowing users to upload their documents from their accounts.
Apploi can be downloaded for free both on iTunes and on Google Play. However, employers are required to pay a fee, that can range from $30 if they're only using the application to list openings, to $399 if they want to provide an in-store tablet that applicants can use on the spot, in their offices.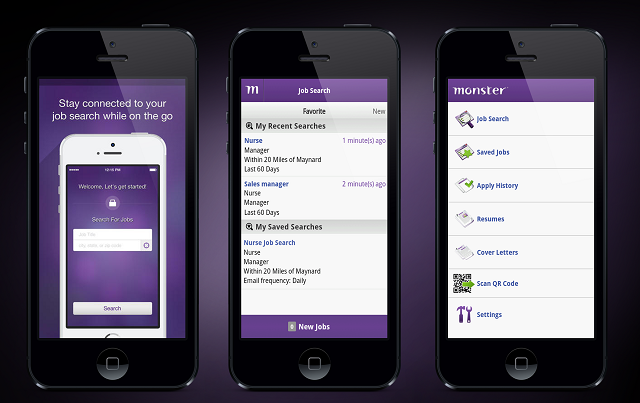 Monster.com is one of the largest job searching websites that currently exist. There are more than 70 million job seekers per month that access the website. The site now has a mobile application for iOS devices.
Inside the app, users are able to search, view and apply for jobs. If one doesn't have the possibility to consult potential openings at a particular moment, one can save it for later. Searching for openings happens by keyword, by skill, by location or even by job title. Some available positions are grouped by specialized searches, and these categories depend either on the domain (i.e. healthcare or finance) or on the time period (i.e. part-time or hourly jobs). The Monster.com app also lets users consult information on salary, resume tips, networking advice, as well as relocation resources.
Users can also access Monster.com website through the application. Performing changes on their resumes, cover letters and portfolios is also available from inside the app.
This mobile application for job searching stays in touch with its users through push notifications and email alerts; the latter announces users of new job openings that are particularly related to their personal search criteria or to details from their CVs.
Monster.com Job Search is free to download in the App Store.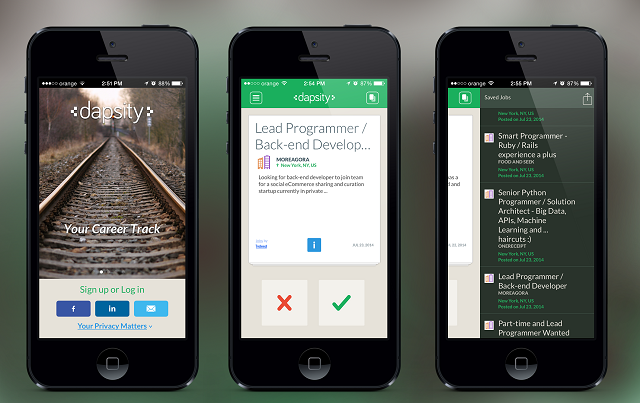 Dapsity is a mobile app that intends to transform the job search adventure into a simple experience. Dapsity offers insightful information on job openings in more than 50 countries.
To use this application, users are required to connect by using their Facebook or LinkedIn accounts, which allows individuals to see whether companies where their contacts are employed have current available positions.
Searching is performed only according to the user input. Individuals can check which jobs are popular, and openings are displayed chronologically, by their posting date.
Users can track their progress with the help of statistics provided by the app. Dapsity basically constructs a map of a user's journey, based on where one has previously been employed, their individual portfolio & resume, and which jobs one's looking at.
In order to ease the job search experience, jobs are displayed using card formats. All the relevant information is therefore exhibited in a single place. Swiping and tapping through openings is performed easily and quickly. In case a candidate is interested in consulting more data on a particular position, an info button allows them to visualize job details, as well as their connections to the job. Job listings cover all domains and may range from full-time to temporary positions.
Openings can also be deleted by users, and they therefore cease to come up in future searches. Positions can also be saved for later, in case one needs to brush up their CVs to better impress employers or recruiters.
The Dapsity app for job searching is an example of cool mobile app design and is free to download in the App Store.
YOU MIGHT ALSO BE INTERESTED IN
The Essential Role Of Trust In Product Development
As you get ready to build your product, you'll need a team you can trust to take the best possible decisions.