Good programming requires an effective organization of code. Writing clean code is like writing a good book. It needs to have a clear structure in order to make sense to those who read it. Moreover, if we take a look at the standard components of a book, we will notice that they are quite close to the parts of a program as you can see in the following table: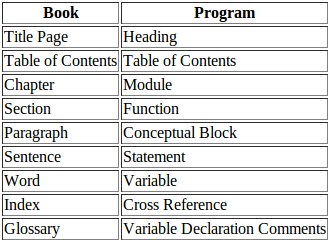 Source: www.oualline.com
This week we talked to Claudia, one of our web developers. The first phrase that came to her mind when we asked about her work and habits also had to do with the importance of organizing code. For her, it is vital to keep order not only within her code, but also in her files and folders. This might be a little tiny detail that's easily ignored, but - the fact is - we never realize how time-consuming this can be. She also wanted to highlight the idea of constant changes and technology evolution. That is why she made reading articles an everyday habit that would help her update her knowledge. Some of the sources that keep her posted are Smashing Magazine, Codrops and CSS-Tricks. Last but not least, in her opinion, developers must try to use technologies that allow them to reuse code as much as possible. Sass and LESS are a great option for writing organized reusable style sheets. She used both of them on separate projects. If you want to find out more about their usage and the differences between them, give this link a try. All in all, what you have to keep in mind after leaving our blog:
- developers have to invest time in their professional growing by following news and trends
- splitting activities is always a good idea when it comes to organizing your stuff
- programmers don't just write code
- finding the right tools that fit your needs saves a lot of your time
Happy programming!
YOU MIGHT ALSO BE INTERESTED IN
The Essential Role Of Trust In Product Development
As you get ready to build your product, you'll need a team you can trust to take the best possible decisions.