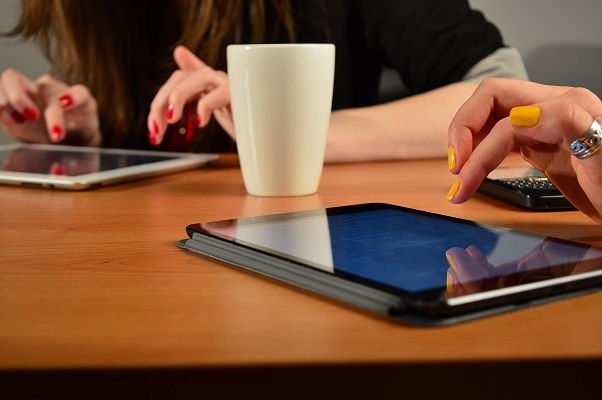 Many entrepreneurs find themselves in the situation where they must attend teleconference meetings. It is annoying and time-consuming to search for phone numbers and codes in order to join conference calls, especially while driving. Not to mention that flipping back and forth between your calendar screens in order to type all the numbers every time you want to make a call, doesn't seem like a good idea.
This week we'd like to introduce you to "Dial My Meeting" application. It is not the most stylish mobile conference app, but it does its job. Designed for both iOS and Android platforms, it extracts numbers and codes from your appointments and dials them for you. You don't have to remember all the numbers, introduce them into your phone, or repeat the entire process when you've missed one.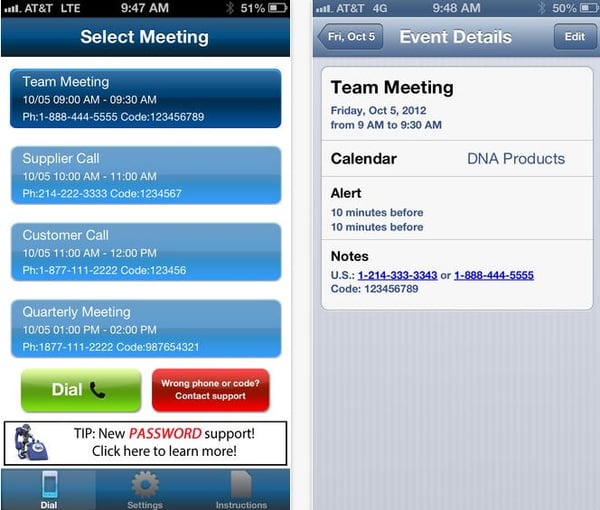 How it works
Once you have the application installed on your phone , the moment you use it, it automatically opens your calendar and pulls out your current meetings from your calendar. Additionally, it allows you to see prior meetings or future meetings. Each meeting provides the code and the phone numbers pulled out of the meeting invitation. Down on the bottom, there are two options: Dial and Wrong phone or code. If, for any reason, the app doesn't extract the phone number and the code, the latter can be pressed for customer support.
The support team will help you identify the problem and debug the issue. They can even help you with setting up your application properly. Moreover, each time you use it, you'll discover a different tip. This feature saves you from reading the instructions that come with the application. In the end, if you want to dial one or more numbers, you just have to hit the Dial button.
As well as this, there's also a configuration area that enables you to select your preferences. Here are some features:
Auto-Dial Preferences are great if you're driving. It allows the app to pick the first meeting from your calendar and dial the numbers from your current appointment.
Toll-Free Search Preferences help you save company money. If you decide to use toll-free numbers, you can do that by selecting the Yes button, by defining the toll-free format (prefixes) and by filling in the number of digits that follow the prefix.
Other Search Preferences allow you to establish how the app is going to find your meetings: by numbers, codes, countries or keywords.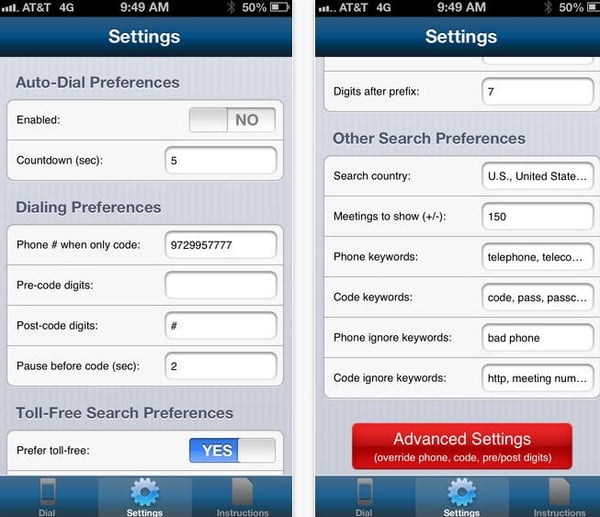 If you want to walk through all of these steps, Dial My Meeting app provides a list of instructions too.
To conclude, we must confess that this mobile conference app's simplicity was the main element that caught our attention. Most certainly, it's not a friendly app with a great design, but it does its job. It covers important needs: it saves big bucks, a lot of hassle and time. With reference to the aspects mentioned before, there are some other mobile apps you may want to look into: MobileDay, Bridge Call Dialer, QuickContact and so on.
YOU MIGHT ALSO BE INTERESTED IN
The Essential Role Of Trust In Product Development
As you get ready to build your product, you'll need a team you can trust to take the best possible decisions.