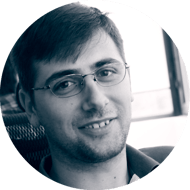 This week we talked to Iulian, one of our Web/PHP developers. Iulian is a rather recent colleague of ours, having been adopted by the Thinslices family almost 2 months ago. Being an experienced developer, he has, in the past, worked for other mobile development companies. He was once part of a team that was comprised of 4 members, including himself.
He mostly appreciates the work management process applied by Thinslices, for it is notably organized. Unlike former days, when he was responsible for many other assignments aside from writing code, nowadays he can successfully concentrate on his coding assignments.
Git review. What's in a tool?
Moving on to more technical details, though, we'll say that every day, Iulian uses the following tools: Sublime Text, GIT, MySQL Workbench and Symfony. While Iulian says that Sublime Text and MySQL Workbench are the team's choices and can be consequently replaced at any time, he claims that GIT and Symfony are majorly important for the developing process.
GIT is a free & open source control system for managing small to very large projects. The GIT mini file system stores data as snapshots. According to Iulian, this allows developers to easily modify files. Moreover, even though a developer may have been accustomed to working with previous version control systems, GIT is easy to learn.
GIT can be used for branching and merging. This assists developers with context switching, role-based codelines and disposable experimentation. Using the branching feature, the production line can be easily managed and adjusted, as long as developers are not working on the same thing. Conflicts would otherwise come up, which would require additional time to be resolved. What does disposable experimentation imply? If one works on a branch that offers no satisfactory results, one has the opportunity of deleting it, without anyone else knowing about it.
Since almost all operations are local, working offline is also possible. Every piece of information is check-summed, for GIT uses an SHA-1 hash for storing; filenames are stored as hash values of files' content.
What is the basic GIT workflow?
GIT operates after the following principles:
Files are changed in the workflow directory
Staging files is made through snapshots
Developers execute a commit function, and by using the latter, snapshots are permanently stored in the system, making it easy for GIT users to see any modifications and even recover files using their checksums
Symfony is a PHP framework that is user-friendly and easy to understand. It's also fast - version 2 uses only half of the memory that previous versions required. Other members from our Thinslices team also recommend using Symfony for maximizing their PHP framework.
Productivity tips
Enhancing productivity is among the most frequent endeavors of a developer. Iulian says that organizing tasks helps him achieve his daily potential. In this sense, he begins his workday by resolving the most difficult or prioritary tasks, thus keeping the lighter assignments towards the end of his schedule. To increase his concentration, he listens to instrumental music or classic rock.
Iulian keeps up-to-date with the industry with the help of Flipboard mobile app. He is mostly keen on tech, gadgets and business articles. He spends his spare time reading Scandinavian mystery & thriller novels.
WORK AT THINSLICES
Come visit us at the museum!
We are Thinslices, a family of elephants who build technology products and develop mobile apps for startups. You might have seen us on Bored Panda.