With technology being around, increasingly more businesses use it in order to complete everyday tasks. Over the last years, customer relationship management has become extremely important for companies' success. Therefore, a significant number of apps for business hit the market, including some for Google Analytics.
By using Google Analytics apps, entrepreneurs get the chance to monitor and evaluate their business. Improvements can be made to SEO traffic and Google rank, and customers' behaviour can be defined. For companies, this is a good opportunity to become better at what they do.
If you have less than 8 sites and you use Google Analytics on a daily basis, this app is your best shot. It is an easy way to get a quick idea of how the traffic to your website looks like at any given moment.
The app displays data in a clear and nice way. To start using it, you need a Google Analytics account.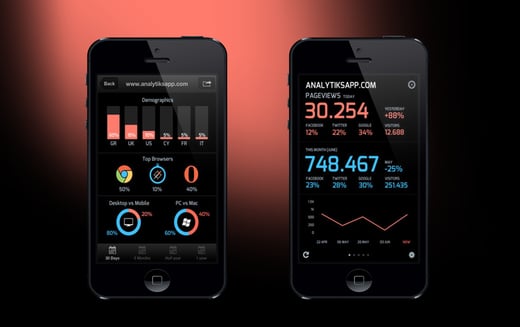 Analytics provides important information including page views, unique visitors, organic versus general traffic, top countries and top browsers, desktop vs mobile users, etc.
It turns Google Analytics stats into valuable infographics that can be shared on Dropbox, Evernote and email.
The app allows you to follow traffic from Social Media - Facebook, Twitter, Pinterest, Reddit, and search engine - on the go.
It shows how much time your users spent on your website.
It selects 5 most important keywords.
Price: $1.99
The app requires at least iOS 6.1.
It is compatible with iPhone, iPad and iPod touch.
The app is optimized for iPhone 5.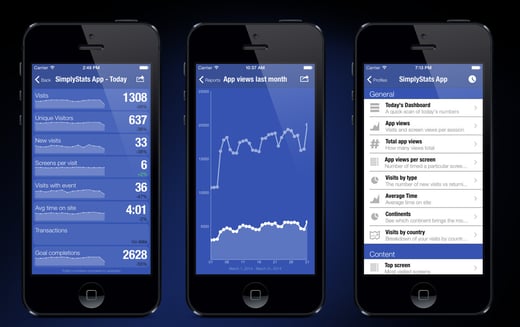 This one is free and it also shows users Google Analytics statistics on the move. It focuses on visitors' behavior, giving you an idea on what improvements should be made in order to increase traffic and generate leads. Based on GA stats, it generates colored graphics that highlight your website evolution, including visit counts, browser usage, demographics, keywords. You can send them through email and social media, or you can save a copy to your photo album for later use.
One of the most important features comes from users' ability to adjust the settings, so they can see statistics for the current day, week, month, or year.
Designed for both iPhone and iPad.
Compatibility: It requires iOS 6.0 or later. It is compatible with iPhone, iPad, and iPod touch. The app is optimized for iPhone 5.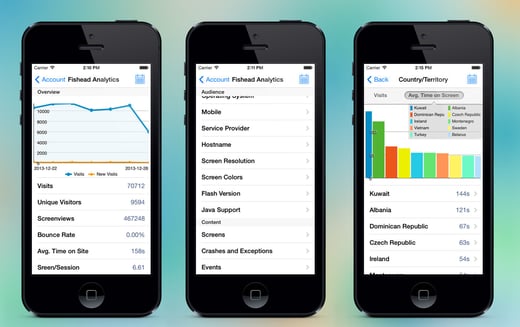 Another free app that you can use for Google Analytics is Fishead Analytics. Compared to the apps presented above, it doesn't bring anything particularly new on the table. In a nutshell, it supports multiple accounts and profiles, diverse metrics for all reports, and graphs. It does a great job of gathering significant information about your web traffic in a friendly interface. Moreover, if you want to refine a search to see how many people using Chrome were referred to the website via Twitter, you can do that.
Conclusion
These days, entrepreneurs' ability to adapt their product strategy to customers' needs is mandatory. Whether you have a product or you're in the services area, you should focus on your brand interaction. Knowing your visitors' wishes and discovering their behavior will take you to the next level: you'll make some changes that will have a huge impact on your business results. Mobile apps for Google Analytics are useful instruments which keep you posted on your website traffic. They are great for marketers, bloggers, and business owners. Basically for everyone who owns or manages one or more Google Analytics accounts.
YOU MIGHT ALSO BE INTERESTED IN
The Essential Role Of Trust In Product Development
As you get ready to build your product, you'll need a team you can trust to take the best possible decisions.