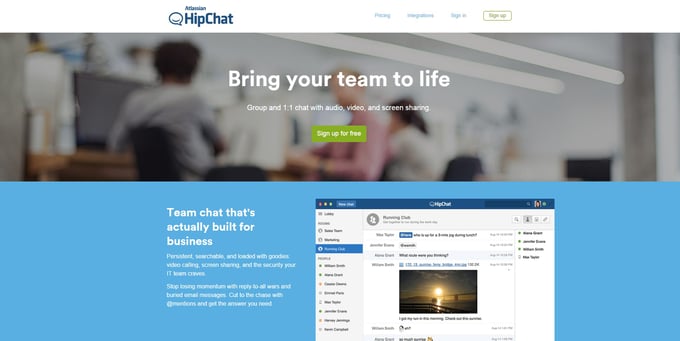 Interactions are important for every company, both when occurring between team members and when they take place with the client. Discussing issues in real time can be life-saving. Therefore, many companies are looking for tools that allow them to create private chat rooms, share files and attach images in order to get a better understanding of their work.
This week we'll introduce you to HipChat, a group chat for teams that's actually built for businesses and that provides video calling, screen sharing, and the security that your team requires. The main reason for using HipChat comes from companies' need to work efficiently. So here's why you should give HipChat a try:
1. It's accessible to everyone
You can run HipChat on everything. They built fast native apps from scratch: Mac, Windows, iOS, Android and Linux. For the fans of computers and laptops, there's a desktop app that can be installed.
2. It helps you and your team increase productivity by:
2.1 Offering you an unlimited number of chat rooms or 1-to-1 chat which will lead to:
a) a faster communication between multiple teams;
b) an improved feedback process; there will be no need for you to do this by email and wait for answers;
c) an efficient sharing method: the file upload allows you to send mockups quickly;
d) a simple tracking system that lets you leave messages that will surely be seen by all the people involved in the conversation. The push notifications make sure that you'll never miss a meeting.
2.2. Providing real-time video and screen sharing
2.3. Giving you full access to a complete chat history that helps you:
a) keep track of every discussion;
b) catch up on things users missed while they were away;
c) see the conversation right from where you left it;
3. It protects your team privacy
a) Strong security system
HipChat's secure conversations are transferred in 256-bit SSL encryption – the same security protocol as online banks.
b) Users get all the control
They can bring clients, vendors, and other third-parties into a HipChat room. They will see what the users want them to see.
4. It's great for designers
HipChat can be used by every team who wants to work and communicate efficiently. But there are professionals - designers, for instance - who will see a big difference regarding their work efficiency once they start using the HipChat app. Some of the facts that help them manage their activity better are:
a) the HipChat rooms
It is easier for designers to use these rooms instead of real meetings that sometimes present a big risk of losing focus and time. By creating a space only for design discussions, professionals get the chance to share their mockups with their colleagues and clients, collect feedback from them and make improvements based on specific opinions. The next step comes naturally: the final design version will be sent to the Development room, so the developers can implement it.
b) the possibility to share images in the app
This contributes to reviewing designs. By sharing images in the app, everybody will get an instant preview of the file and then the team will be able to add comments to it.
c) the fact that they can paste images/ Photoshop layers from their clipboard
Having the possibility to copy and paste images directly from your clipboard can be life-saving. You don't have to go through all those little steps in order to complete the sending files process. HipChat converts what you have on the clipboard into a file that you can share.
d) files and links slide bar
The "Files and Shares" sidebar from the right side of every chat shows users a list of the most recently shared documents.
What's new on HipChat
Not long ago, HipChat came up with some new features which were meant to offer users a great experience. For the moment, they've made the changes only on the Mac app. The other apps will be updated in the near future:
1. Local time in 1-to-1 chats helps you figure out if you are about to send a message in the middle of the night or not. Teams that work with people from different time zones will find this very useful, since the app lets them see the local date and time of their clients' locations.
2. The unread message counts feature was recently added to the Android app. Users were very happy, so the company decided to release it on all of their desktop apps (starting with Mac).
3. The new presence icons feature changes a little bit the look and feel of the app, as the old icons had different colors (red, orange, and green). The HipChat team kept the color scheme, but they changed the shapes, so the icons can be distinguished easily.
4. The search area also needed some improvements since HipChat has grown. Right now, the search speed is really high and the header search bar allows users to search from anywhere.
Conclusion
Building a product that people want and use was never easy. The whole process involves hard work and attention to details. Because distractions can appear, the development team and the client should find a suitable way that will help them both keep track of all activities. Communication will always be key, especially as it facilitates the feedback process. So going for HipChat may be a smart decision, mainly because:
it's accessible to everyone
it helps you and your team increase productivity
it protects your team privacy
YOU MIGHT ALSO BE INTERESTED IN
The Essential Role Of Trust In Product Development
As you get ready to build your product, you'll need a team you can trust to take the best possible decisions.