Mobile is the future and the present
Recent statistics show that, on an average day, over 300,000 babies are born, but more than half a million iOS devices get into users' hands, as well as over 700,000 Android devices and 200,000 Nokia products.
An outdated study stated that, by 2014, internet users were most likely to perform searches or get in touch via the web using their mobile phones. This is not only incredibly true now, but it's also true that most mobile users have switched from using ordinary browsers to regularly using applications.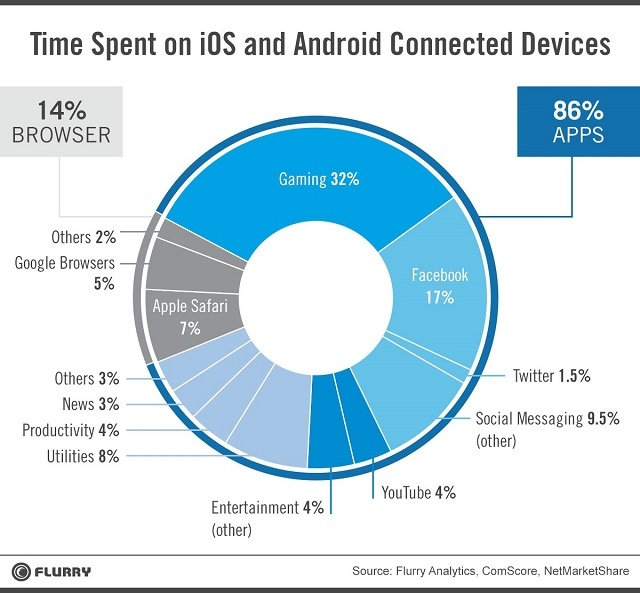 Statistics clearly indicate that developing mobile apps is mandatory, at least for businesses that actually want to sell. Deciding to go mobile-first, mobile only or mobile after is important, but going mobile is a must.
In the mobile-first category, there are some mind-blowing apps that have initially launched on mobile and that have later on conquered web. The widely known Angry Birds by Rovio and the largely acclaimed fitness app Runkeeper were initially mobile-first products. Pulse is an app that mixes social media with news and info from friends and colleagues, that has been recently acquired by LinkedIn. It was so majorly appreciated by the public in 2012, that it jumped from 1 million to 11 million downloads and, at the time, it was estimated it was downloaded by a user every 2 seconds.
Some mobile apps can stick to being singularly mobile. Vivid examples are apps such as Roambi (that combines mobile analytics, business insights and valid reports), AwardWallet (that calculates frequent flyers' miles) and Expensify (that helps users track their expenses and control their budgets).
Why mobile-first? Why not?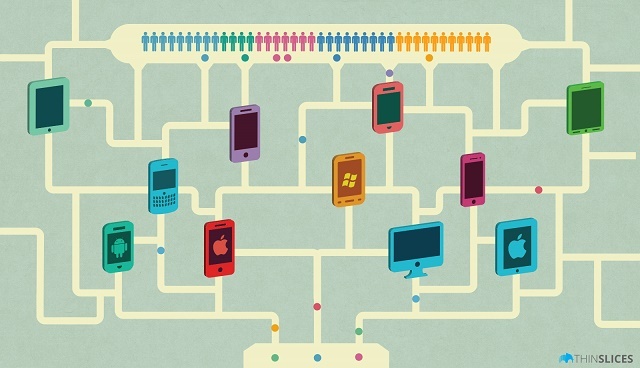 Mobile-first is a strategy that has to fit users' needs and the product you're launching. We've put together a punctual list of pros and cons that shows you whether you should or should not have a mobile-first mentality.
Pros:
the ability to attract numerous customers with an impeccable design
maximum functionality and functionability
the possibility to progress with periodical updates
shifting to web should be easy with a viable product
the smaller screen real estate somehow helps entrepreneurs focus on the features that deliver the value proposition of the application; this helps to create a valuable MVP and not spend time and effort on creating bloatware
Cons:
both the distribution and the adoption of apps is a tricky business (app store launch is difficult due to a slow approval process; there are multiple other apps that exist and that have taken over the market)
discovery is also something to consider, especially because you can't email a link into a mobile app
with a faulty design and less amazing features, losing customers could happen even before acquiring them, therefore constant work in improving the app is needed
users have unbelievably great expectations in speed and UX, that indirectly trigger higher costs and the necessity to put together an amazing developing team
a clearly slower iteration
Such a decision can prove to be critical for the entire future of a business. Once it is made, however, there is another issue to be addressed…
Launch on iOS, on Android, or on both?
Numbers speak for themselves. In spite of Android being extremely popular due to less expensive products, iOS still leads the market. Christmas 2013 statistics put together by IBM show that iOS absolutely blew away Android products in sales, users spending around 94$ on iOS products, compared to an approximate 48$ spent on Android devices. What's more important is that most of these sales came from the mobile market, which basically translates into the fact that mobile apps that are specifically designed for Apple products have more chances of thriving than the same ones that are designed for Android.
A simple list of pros and cons always helps in establishing a strategy:
iOS
Pros:
iOS products are largely popular on a worldwide scale
Apple developers constantly upgrade iOS versions, indirectly convincing users to buy new products
Cons:
iOS products are more expensive than Android products
a new mobile app does not benefit from a quick approval process
Android
Pros:
Android designs cheaper products, thus attracting numerous potential customers
apps benefit from an easier approval process and the ability to test immediately
Cons:
there are multiple Android versions and upgrade is slower, therefore limiting app possibilities for developers
there have been some piracy risks in the past; although manageable, they may be a constant threat
What's the bottom line?
Creating the MVP of your product is based on market research that can indicate if launching mobile-first is the right choice. Consider doing some market sizing, competitive analysis, customer development, as well as a preliminary evaluation of the idea.
The greatest issue of launching a mobile-first product is its discoverability, particularly in the case of iOS, where even the approval process is slower. Therefore, an exceptional design and an impeccable development are a must.
While mobile-first is a brilliant idea, particularly in the case of apps that make sense especially if they're not web-based, web development is somewhat easier and less cost and time consuming. Let us not, however, ignore the fact that a website is necessary even in the case of a mobile-first product, mostly because of marketing reasons.
If the public's needs aren't extraordinarily high, going mobile-first may not be a good idea. Perhaps launching both the mobile and the web versions of the product at the same time is a perfect combination.
No matter the choice, what's of utmost importance is the development of a solid marketing strategy that ultimately ensures sales.
YOU MIGHT ALSO BE INTERESTED IN
The Essential Role Of Trust In Product Development
As you get ready to build your product, you'll need a team you can trust to take the best possible decisions.