Relevant statistics on why mobile is at the heart of the digital ecosystem
The online interaction as we know it is over. We don't "go online" anymore, we live online, we're always on, always connected. Constant connectivity has had a massive impact on behavior, but also on consumer expectations. We all turn on our devices during real intent-driven moments, whether we want to do, need to buy or need to find something, and we all expect instant and relevant answers. These moments are crucial, no matter the business, since this is when decisions are being made and preferences are being shaped.
Smartphones and tablets can no longer be ignored by marketers, considering the fact that they represent a substantial part of all interactions and revenue. But just how substantial? Approximately one in four mobile internet users (26%) use their mobile phone to purchase goods or services online and with 4G subscriptions increasing we are expecting that these trends accelerate and more consumers will become mobile.
Mobile Broadband and Smartphone Adoption
It's important to remember that digital behaviors have been enabled and modified by superfast infrastructure. We are now witnessing an accelerated technology migration to higher speed mobile broadband networks and an increased adoption of smartphones and other connected devices. According to GSMA Global Mobile Economy Report 2015, mobile broadband connections will account for nearly 70% of the global base in the next 4 years, up from just under 30% in December 2014.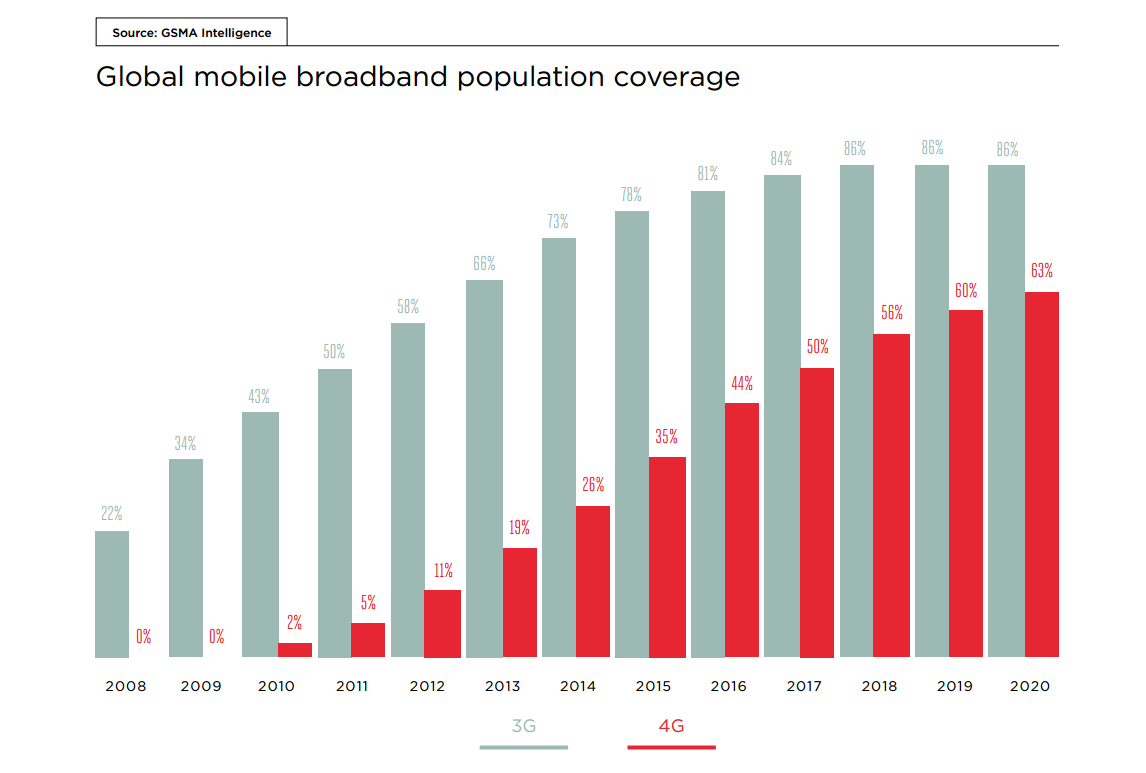 The immediate consequence of higher speed connections resides in an accelerating rate of smartphone adoption. Adoption rates have already reached 60% of the worldwide connection base, and it is expected to reach 70-80% ceiling by 2020.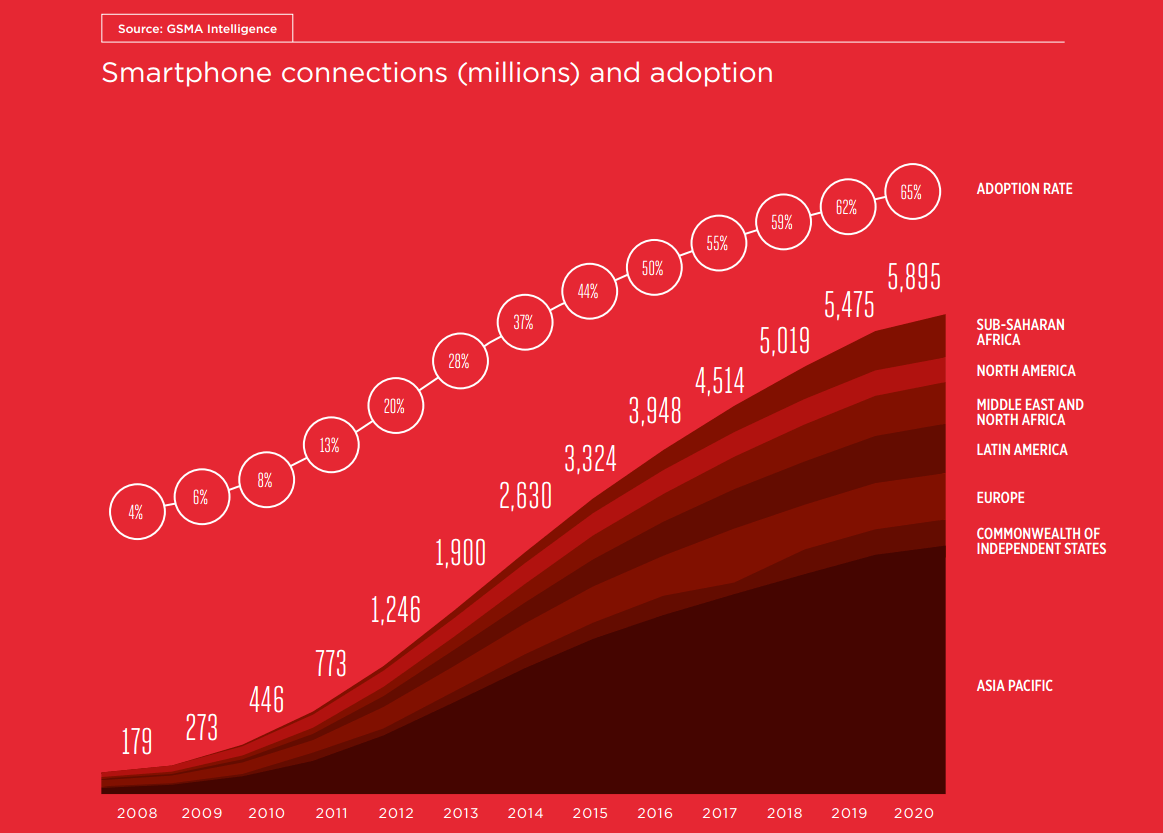 Of course, not every 4G subscriber necessarily has a 4G capable phone, so the number of people actually using 4G services may be a bit smaller than indicated. However many users benefit from 4G services, and 4G users are typically much more intensive consumers and they are much more attached to their devices. The fact that 62% of 4G users say they can't live without their smartphone device is the clearest indicator of how important mobile is to us and of how "hooked" we are to our devices.
Mobile Media VS Desktop
In May 2015, Google announced that mobile searches have surpassed desktop searches. Mobile out-performs desktop on engagement and access to key demographic segments, mobile-only audiences are now too big to ignore, therefore mobile can expand value and size of audiences significantly, and last but not least, mobile out-performs desktop on key advertising effectiveness indicators.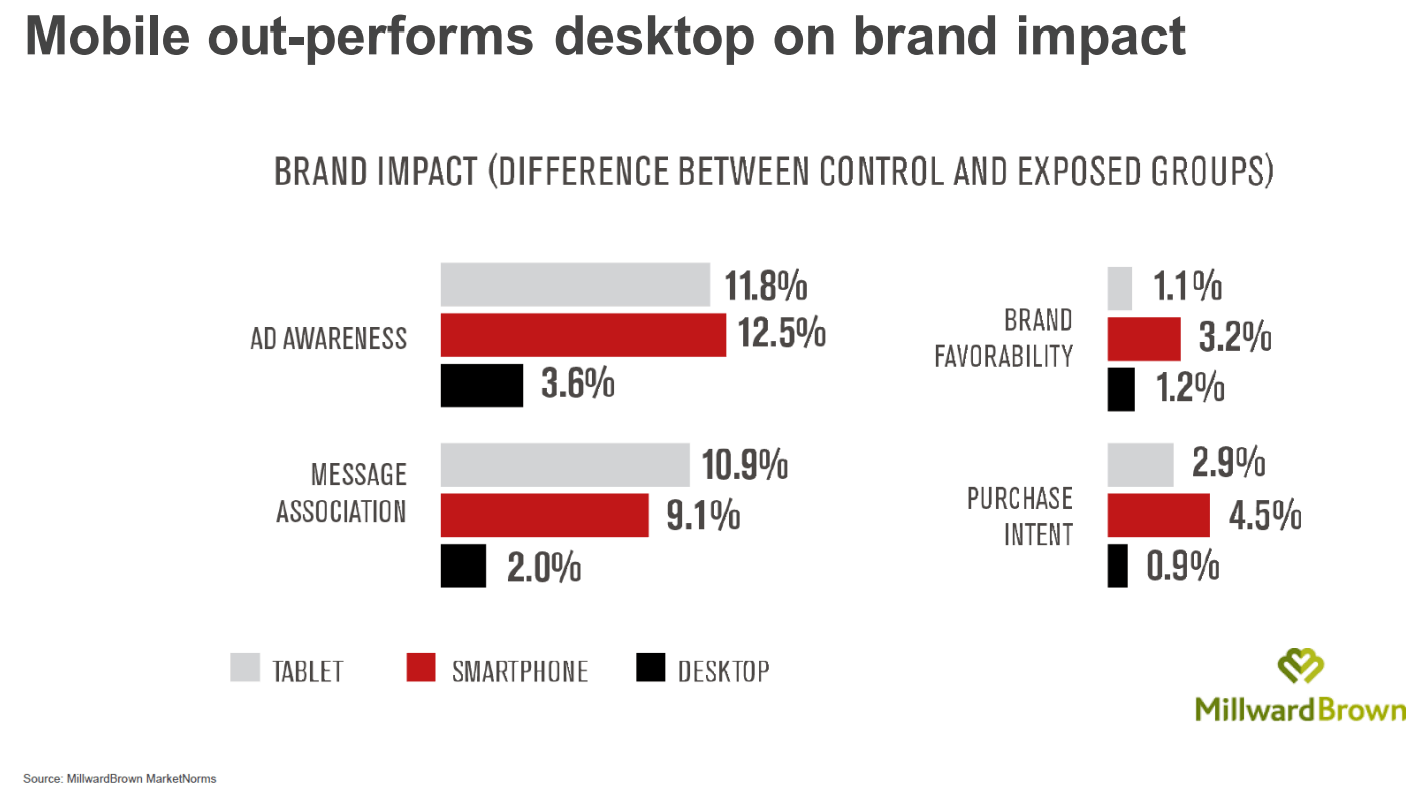 The Triumph of Apps
The increase of mobile web browsing is of particular interest, as apps have tended to dominate time spent on mobile. On average, smartphone users who download apps to their phones have 17 apps. Younger smartphone users are using an average of 19 apps, compared to 13.5 for those aged 55 or more.
This is a clear indication that consumers expect services to be mobile and marketers should reciprocate in kind. The preference for mobile apps vs mobile sites is a tremendous part of mobile strategy, considering that mobile media time shows the consumer preference for mobile apps account for 89% of media time in mobile.
This indicates a change in consumer behavior: people don't want to consume content passively, but prefer active participation and functionality: contrary to the website, apps actually DO something, solve a problem, and handle a specific task. And this is what customers want – effective, dynamic and interactive tools to help them achieve their everyday goals.
However, downloading of an app doesn't entail that it would be actively used. We've already established that smartphone users are very keen on downloading apps but that's only the beginning: the challenging part is to keep a close contact with them, since up to 60% of users opt-out of push notifications.
How Often Should I Update My App?
The amount of time spent with smartphones has significantly increased, as well as the amount of time spent in apps, and apps used regularly. While it's clear that every consumer-facing businesses should invest in an app, the real struggle is maintaining smartphone apps, particularly in ongoing updates.
More frequent updates tend to be associated with higher ratings from app users, according to iOS App Store and Google Play statistics. Throughout 2015 Amazon, Walmart, and Geico updated their respective apps between 20 and 25 times, and earned the highest average ratings.
To sum up, the demand for services through mobile has never been greater, and is only set to increase. It's now a question of using these data to fully understand how consumers behave and what their preferences are. If a couple of years ago consumers were blaming their phone, themselves or the broadband connection when a mobile site or app under-performed, they now blame it on the marketer - it is clear that mobile is the future, and within 3 years it will come to dominate the digital ecosystem, so you'll have to be prepared and you'll surely win the moments that matter!
YOU MIGHT ALSO BE INTERESTED IN
The Essential Role Of Trust In Product Development
As you get ready to build your product, you'll need a team you can trust to take the best possible decisions.