Pros and cons, best practices and type adoption.
Native versus web. The basics.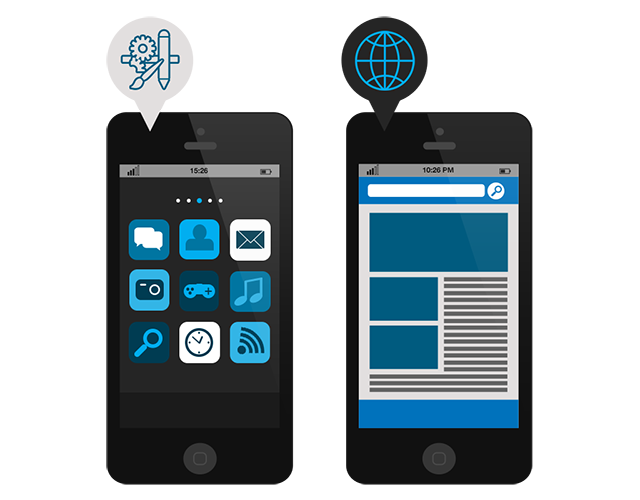 A native application is a program that has been developed for use on a particular device. As it is destined for a specific device and operating system, a native app has the advantage of benefiting from all features of that specific device.
This is the case with most iOS and Android apps, that are only destined to work on devices agreed by Apple or its counterpart, Android. Specific programming languages include Objective C for iOS and Java in the case of Android. This is why an app built for the iPhone will always need radical modification in case it has to be used for Android.
The main advantages of a native app are its high efficiency and reliability.
A web app, on the other hand, is built on standards-based technologies such as HTML5, CSS3 and JavaScript. In case the web-browser is modern, standards-compliant, the web app can pretty much work on any given platform. Its main benefit, therefore, lies in the capacity to cater for any mobile device: iPhone, iPad, Android or Windows Phone.
As hybrid apps also count for an option during the mobile product development process, a small definition could help understand how the latter differs. This app is written with the same technologies as a mobile web one, the difference being that they run inside a native container and leverage the browser engine of the device to render the HTML and process the Java Script locally.
Distribution and monetisation
Native app distribution
Every product development process includes a distribution part, usually (and preferably) followed by the monetisation one. Here's how things happen in the case of native apps: every platform owner has a specific medium via which distribution is acquired. iOS apps are popularised via the App Store, Android has its own Android Market and Windows the Windows Store.
It all looks pretty organized, so it should also be easy, right? In fact, most of the times, an app needs to pass through a very laborious process before actually being accepted for distribution. The process can take weeks and even more.
Apple's App Store, for instance, has really strict guidelines for app submission, for two main reasons:
- making sure all apps closely follow Apple rules of design and functionality;
- ensuring the safety of the future device installing the app.
Due to the smallest flaws, apps can get rejected, thus rendering the product development process useless.
Although the Google Play Store process is a little less time-consuming, the lack of direct step-by-step guidance during app submission is source of concern and distress for the developer.
Web app distribution
Web applications, on the other hand, are a lot easier to distribute, as they are -as one would say - plain websites. They can be updated on a regular basis, they don't require approval from any superior instance and can be made public just as any other website - via link distribution- on social media channels, for instance.
The main disadvantage of a web app, however, is its limited audience. Unlike native apps, that can reach millions of people via stores and markets, web apps can only be accessed by those who come in possession of the link. Hence, the need for constant marketing effort, if success is to be achieved.
There are places where the apps can be listed but, unfortunately, they aren't nearly half as notorious as the App Store: Listio is one such example and Amazon is another. Amazon has recently allowed HTML5 developers to sell their apps in their Appstore, right next to the Android apps).
Post mobile product development monetisation
The steps to making money with a native app are rather straightforward:
- build the app
- publish to store
- ask for a price
- get paid, if people deem the app appropriate
But just because the steps are clear it doesn't mean that you will necessarily make a lot of money. On the contrary, the number of apps that actually make money this way is limited, compared to the total number of apps in the Store.
However, if all goes according to plan, the app is launched in the App Store and payment is done automatically, each time a user downloads it. Apple requires a 99$/year application fee, whereas Google Play Store requires a 25$ registration fee. Afterwards, depending on the success if the app, the developer can receive up to 70% of the total gain in both the App Store and Google Play Store. There are costs to pay to the gatekeeper.
In the case of HTML5 apps, things aren't equally simple. Depending on the amount of money and effort invested in rendering the app popular, results can be impressive or average. Most famous publishers or online retailers simply choose to add a mobile web app to the whole array of iOS, Android or Windows 8 apps just to make sure they have it all. Monetisation of the (mobile) web app is almost not at all important in their case, as profits are grossed from other sources: online advertising or commerce (New York Times).
Product development costs. Overall costs
It's easy to see why building a native app will always be more expensive than a web one: developing a different version of the app for several platforms requires multiplied amounts of time and money. Depending on the type of apps you need to build, effective prices vary between $1000 and $250.000.
A well-built web app will be more portable than its native counterpart, only provided that thorough testing has been undergone for obtaining an "all browser friendly" version. This is why you might want to look into mobile web first. More on how to build an app that suits both users and business purpose here.
We have expanded on overall costs of a thorough mobile product development process before. What we stressed on was the complexity of every part of the development process: prototyping, proof of concept, development and quality assurance are the main stages an app passes through since birth. People involved with the implementation of all these processes include a business analyst, a designer, an architect, a number of developers, a SCRUM master and a quality analyst.
Best practices and adoption. Will native take over?
Users' requirements are universal, regardless of the app type
When it comes to aesthetics, native apps win the competition by far. Due to their ability of leveraging elements in their native operating systems, they tend to feel more "friendly" and, hence, to be preferred over web ones. Users' expectations are somewhat universal in today's hypertech world, regardless of the app type. This is why it is the owner's duty to clearly target the audience of the app, so that he can best establish which type of app would be most suitable.
Here's a list of what users take for granted, whenever they wish to download an app:
- speed (no app perceived as slow to open and operate will be tolerated, regardless of how professionally it is designed)
- instant gratification is imperious, as apps don't allow multi-tasking the way browsing on a computer does
- functionality and organized design
- linear design (actions need to unveil in a linear manner, unlike in the case of typical websites)
- concise options (users don't like to be distracted while browsing through a web or native app; this is why actions required of them should be presented in a clear, direct manner).
Mobile phones in their actual state favour the native app
Two years ago, predictions inclined towards mobile web apps ruling the app world forever. At least, this is what some journalists believed. However, things look different today. Some of the main disadvantages of the mobile phone -the various screen sizes - has made working with HTML5 rather risky. Scalability becomes a mandatory option that, unfortunately, not all mobile web apps can master.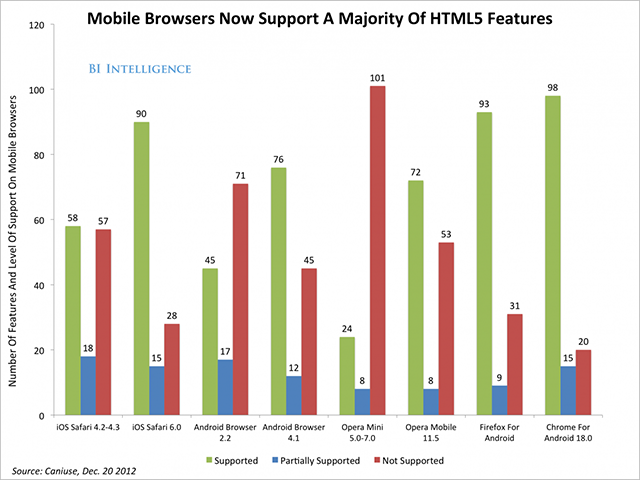 This is why more and more IT officials start to delve into HTML5 and RWD (responsive web design). A Forrester studyundergone in October 2013 revealed that 43% of IT managers in the US are using the two mobile technologies on a regular basis. The same study showed that apps developed using HTML5 technology take extremely long to deliver and suffer greatly from delayed updates in stock browsers.
Add to this certain bugs that take increased amounts of time to solve plus the support required for several devices and developers' manifested preference for native technologies starts to make sense. This is why HTML5 is, at the moment, almost exclusively considered for internal business apps. And for desktop browsing, of course.
Native apps still top mobile web when it comes to mobile devices
In spite of the increasing interest for HTML5 and of its intended reach for all mobile browsers, users tend to prefer native apps. A Business Insider article perfectly illustrates how native apps still top mobile web ones: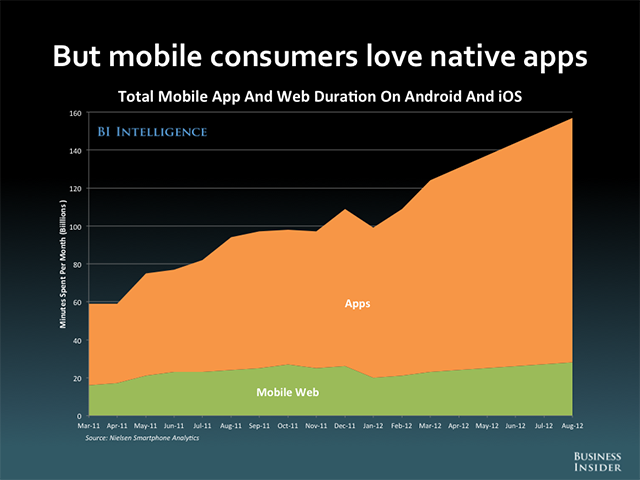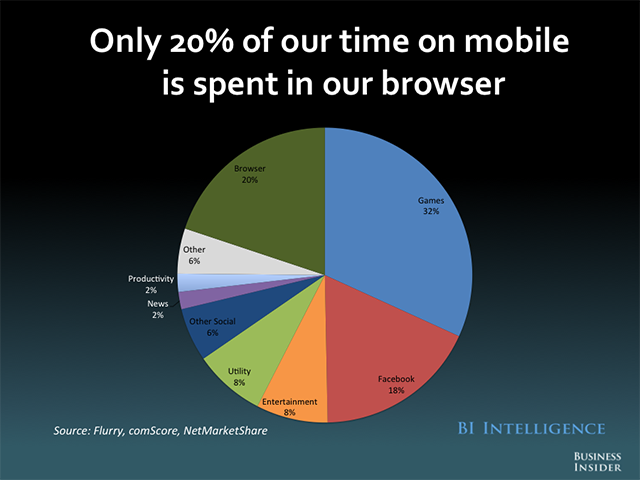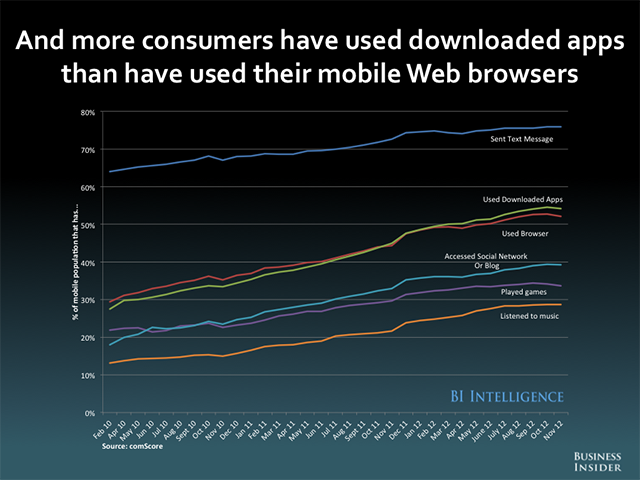 Conclusion
App usage patterns are consistent in the native direction for the time being. However, in 5 years' time, as technology evolves, HTML5 (or a new mobile technology) may come to support all devices and operating systems. What you have to keep in mind, though, is the audience towards which your app will be directed. The needs of the audience (alongside with your budget) will dictate the main functionalities of your app. So start discussing it with them!
YOU MIGHT ALSO BE INTERESTED IN
The Essential Role Of Trust In Product Development
As you get ready to build your product, you'll need a team you can trust to take the best possible decisions.