If you think about the fact that the population penetration of mobile phones grew from 1% globally in 1995 to 73% in 2014, you come to understand that mobile has become the most used digital platform. Industry analyst Mary Meeker emphasized mobile's huge growth and influence in her 2015 Internet trends report. Time spent with digital media on mobile has grown 90% in the last two years, according to comScore. This doesn't mean that people have stopped using their desktops. It only means that they're spending an increasing amount of time on mobile apps and the mobile web.
The average US smartphone user checks their device 150 times a day or once every 6 minutes, according to data revealed in the Meeker Report.

According to VentureBeat, US users spend 80% of their mobile time in apps and only 20% on websites.

The app store is 0.01 percent as big as the web and, as a result, will immediately give your brand 700 times the visibility it has online.
Like Benedict Evans said "mobile is eating the world" and there are several mobile trends in 2015 that are worth analysing and being taken into account, especially when a great app idea pops into one's mind.
Wearable Technology Will See Significant Growth
The global wearables market is expected to reach a value of 19 billion U.S. dollars in 2018, more than ten times its value five years prior. As wearable devices are making a lot of noise in the digital world, the near future is likely to bring an evolution in the apps designed for them. As a matter of fact, wearable technologies in 2015 have moved beyond Google Glass, Samsung Galaxy Gear and Apple Watch, as big brands like Apple and Samsung are investing large amounts of resources into enhancing wearable technology in order to make it more appealing for the end users.
In a recent report on the wearable computing market from BI Intelligence, they also look at how the wearables market will perform in the long run.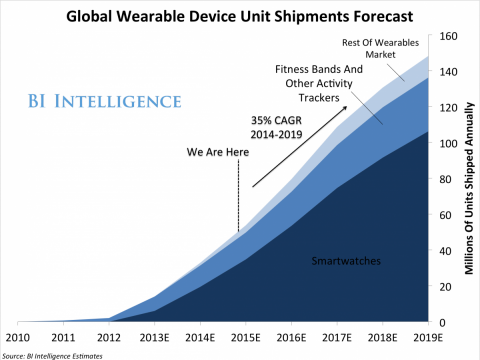 Wearables will see plenty of growth. We estimate the global wearables market will grow at a compound annual rate of 35% over the next five years, reaching 148 million units shipped annually in 2019, up from 33 million units shipped this year.
However, Barriers still persist, and these will inhibit consumer wearables adoption and usage. Smartwatches in particular must become standalone computing devices with more robust functionality for the devices to become mainstream. Other barriers include small screen size, clunky style, limited battery life, and lack of a "killer app" that can drive adoption.
The IoT Takes Over Everything
The Internet of Things will be the largest device market in the world. The estimation is that by 2019 it will be more than double the size of the smartphone, PC, tablet, connected car, and the wearable market combined.
Gartner estimates 4.9 billion connected "things" are in use in 2015 driving a significant requirement for enterprises to make connectivity between all their devices secure. Furthermore, Gartner predicts that in 2020, 25 billion connected "things" will be in use, which represents a huge increase compared with what we are witnessing today.
According to a new study issued by Reportbuyer, up to 50 billion 'smart' devices, ranging from cars and parking meters to coffee machines and combine harvesters could be connected to the internet by 2021, whereas, in 2010 the number of connected devices was 12.5 billion globally.
However, some people believe that the IoT will not exactly take off but rather see a stagnation during 2015. Matthew Davis, vice president of product marketing at StepLeader explains why this is happening: "The technology is there, but consumer awareness is not [...] Companies and marketers haven't convinced the US public that wearables, smart homes, and connected cars are must haves. They are still nice to haves."
M-commerce, Mobile Payments and M-banking Are on the Rise
More and more retailers are set to have native apps that allow consumers to scan barcodes with their mobile devices, thus engaging users at every step in the buying cycle.
India-based e-commerce companies Myntra and Flipkart took the brave decision of shutting their website and transit to app-only platform. According to them, 90% of the traffic and sales were made on smartphone or tablet. It is believed that this trend will become more dominant over the next 4 years, as more and more consumers turn to m-commerce.
Although initially mobile banking didn't take off as quickly as expected, it has become a booming market, with most banks allowing their customers to deposit checks by taking a picture with their smartphone. Furthermore, big players like Google Wallet, Isis Mobile Wallet, and PayPal Beacon allow consumers to pay for products with their mobile devices at the checkout counter.
Actually, the number of mobile wallets using contactless technology is expected to reach 200 million by the end of 2016, representing growth of more than 100% from the end of 2014, a recent report issued by Juniper Research has revealed. While historic growth of mobile wallet usage was driven by person-to-person (P2P) services for the unbanked population in developing markets, the launch of Apple Pay has triggered important activity in the contactless payments sector. Additionally, the research has found that a number of banks were partnering with Visa or MasterCard to implement own-brand contactless wallets using a cloud-based secure element.
Security and UX Reign Over the Development World
First of all, security is set to remain one of the main challenges of mobile apps. Gartner predicted that through 2015, 75% of mobile applications would fail basic tests related to security and enterprise policy.
A separate survey from Frost & Sullivan of 300 enterprises found that 83% have at least one mobile app for employees to use on their devices, with roughly one-in-three having 11 or more.
Both these surveys underscore a basic reality for IT - the adoption of mobile apps has made secure development practices critical.
Apart from that, developers don't only need to make apps more secure, but also reduce the development cycle as much as possible without impacting the user experience. The fact is that, in the ever-growing, app market, apps need to be quickly designed, developed and deployed to obtain a quick return on investment and secure a bigger market share. Ultimately, the user experience is what differentiates an app from another placed in the same category. Therefore, the focus should always be on the user!
These are our top favourite mobile trends in 2015. What else have you identified that has escaped our elephant eye?
YOU MIGHT ALSO BE INTERESTED IN
The Essential Role Of Trust In Product Development
As you get ready to build your product, you'll need a team you can trust to take the best possible decisions.