Wickr – private messaging app becomes secret messenger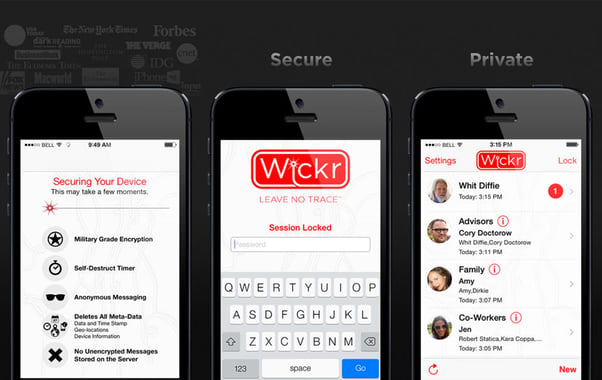 Keeping your stuff private is really hard these days. And it can be a necessity when it comes to companies with important projects going on and employees who need to exchange real-time information.
Having this in mind, we have decided to write a short article about Wickr, the private messaging app which takes care of your personal stuff. It can be trusted and it's free. The company makes sure it is going to stay like this by reselling its encryption to other mobile applications. Therefore, the companies which buy it will be having:
a timer with which applications can implement ephemeral messaging where a user chooses the expiration time
a secure friend finder that works without uploading a contact book
an anti-spam block list to help users keep junk out of their inboxes
a key manager that sends a different key for every message
an anonymizer that works without UDID
Going back to the application itself, everyone who wants to protect their data and send private messages can use it. It's a really good catch for companies where the exchange of information is confidential. Wickr is designed for iPhone, iPad and Android.
Thanks to its simple interface, this privacy app is easy to use, and the best part in this whole functional process is the fact that users choose who can see the messages and who can't. Wickr has become the most trusted communication system in the world. It lets people send messages in many forms: text, photos, images and videos. There are other apps which provide this service. What makes it different from them is the security system. After leaving a conversation, users can delete the encrypted messaging data by setting it to "self destruct".
What other stuff does Wickr private messaging app provide?
military - grade encryption of text, picture, audio and video messages
sender-based control over who can read messages, where and for how long
best available privacy, anonymity and secure file shredding features
security that is simple to use
How do you protect your privacy?
YOU MIGHT ALSO BE INTERESTED IN
The Essential Role Of Trust In Product Development
As you get ready to build your product, you'll need a team you can trust to take the best possible decisions.