Busy schedules are difficult to manage, particularly these days, when the world is on the run. We've put together a list of 3 productivity apps that can help you make the most of your day.
Sociidot
Sociidot - Life Coach, Goal Achievement & Personal Development is a mobile application for both productivity and for roadmapping one's life. The app was created based on psychology principles and brain science. Because of this, the application offers a personalized approach for every user. Dots connect the steps one must cover in order to reach a long-term objective.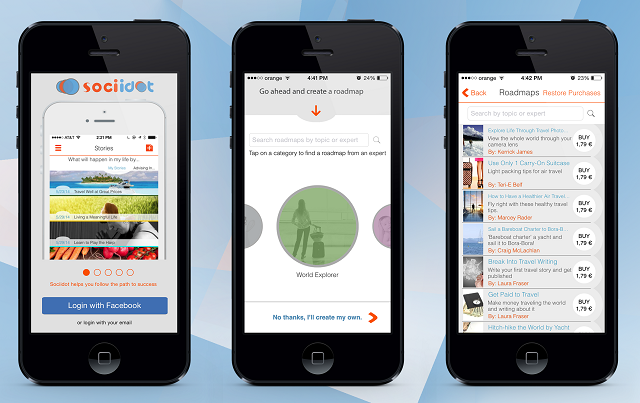 With the help of Sociidot app, a user can create the roadmap of their entire life. Both short-term and long-term goals can be set and the app itself offers advice on how to better reach objectives. Sociidot is also connected to social networks, which means that one is able to stay in touch with acquaintances, friends and relatives; plus user's connections have the possibility to advise them on which things they should take care of first and on how to achieve them productively.
Feeling unsure about the received pieces of advice? No worries, this application for productivity gives other random users the opportunity to become an individual's personal advisors.
Sociidot users can upload pictures that graphically represent their tasks or goals. In fact, each dot from the initial roadmap is defined by a photo, which enhances the Sociidot experience with the help of an impressive design.
Sociidot app can be installed from the App Store and currently offers two plans. In the free version, users are allowed to add 2 emails, and 5 are available for use in the paid version.
Focus@will
Focus@will is another one of those productivity apps that are multi-platform, therefore working both on iOS devices and on desktops. The application creates music playlists that make users focus better while attending to their daily tasks in a more efficient way. As is the case of Sociidot, Focus@will was created following psychology and neuroscience principles and is designed for individuals that have difficulties in concentrating on study or work.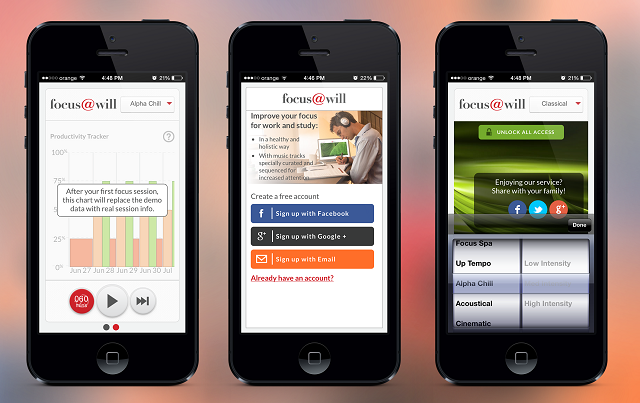 Focus@will cancels environment distractions by providing music with no lyrics. Users have the possibility to select one of the 7 styles of music that are available inside the application: classical, focus spa, up tempo, alpha chill, acoustic, cinematic and ambient.
Even the transition between one song and the other takes places slowly, in order to avoid disturbances.
The app lets users choose the number of minutes they intend to use for focusing completely. With Focus@will, a user can rate productivity, based on the type of music one is listening to. Tracking accomplishments is displayed visually on a following screen, through a chart that is modified continuously and accordingly.
While Focus@will is free to install from the App Store, listening to this efficiency-increasing music is free for the first 100 minutes.
Producteev
Producteev is a mobile application for productivity that is specifically designed for individuals that want to keep up with the work progress of their teams. Producteev has a simple and clean design, which makes it user-friendly. A major plus of the app is that it is also multi-platform, as is the case of the other 2 we have presented above. Moreover, it integrates Dropbox.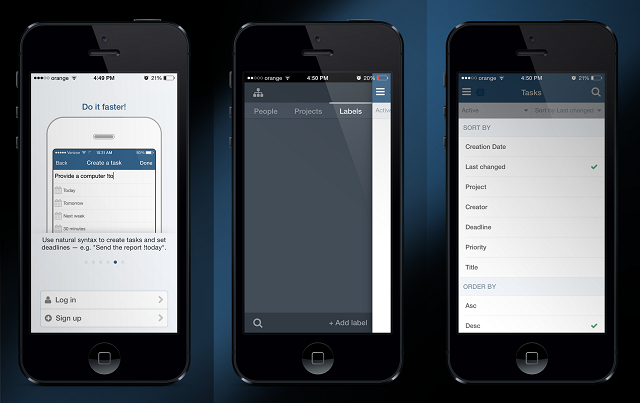 Producteev app offers multiple advantages. Users can create to-do lists, assign tasks, set reminders and schedule appointments; creating group tasks is also possible inside the application.
In order to better manage projects, the general workflow and the team, tasks can be split into sub-tasks and specific labels represent every responsibility. A commenting form makes it easy to collaborate with members of the unit. Assignments are grouped in a panel that contains boxes similar to the ones used in classical email providers:
Inbox
Completed
Starred
Due Today
Late
Fortunately, people that are interested in increasing their performance can download Producteev for free from the App Store.
YOU MIGHT ALSO BE INTERESTED IN
The Essential Role Of Trust In Product Development
As you get ready to build your product, you'll need a team you can trust to take the best possible decisions.