Which Scrum tool best suits your technology startup?
Now that you have the big picture and decided to implement Scrum within your technology company, you're probably wondering which tool to use. This is one of those moments when you've opened ten tabs and are doing a lot of research and documentation with the purpose of selecting the best Scrum tool out there.
We, at Thinslices, have an advice for you: select the tool that would best suit your team, not necessarily the awesomest one out there. And while you're doing the research, allow us to help you with some recommendations.
Jira - Project and issue tracking software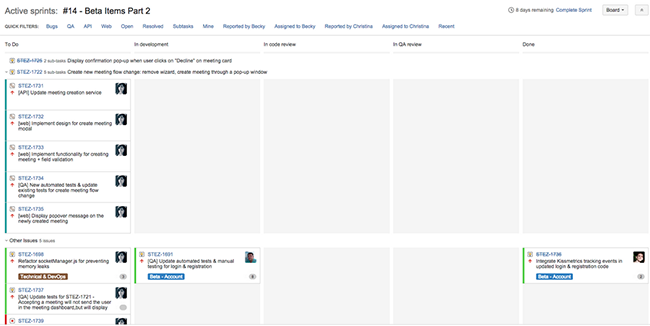 The software can be used for:
Bugs/Change Requests Tracking
Help-desk / Support / Customer Service
Project Management
Task Tracking
Requirements Management
Workflow / Process Management
Jira has an intuitive interface, easily customizable and extensible. It also sends e-mail alerts as and when issues are updated, with the possibility to opt for receiving e-mails when tasks are overdue.
Users have access to advanced analytics and reporting functionalities and can also opt for receiving weekly/monthly reports on issue status. Highly customisable workflows are also a plus on Jira's side.
The Cons Section:
Customer support is not always as responsive as you would want them to be.
Not possible to create sub-projects, only components, that share part of the main-project's functionality.
Our experience with Jira
Thankfully, Jira was our first choice and we decided to stick to it after a six-month trial period. Why? The main reason is that Jira is entirely Scrum oriented. It's probably one of the few tools out there that fully support the Scrum methodology. With Jira, it's very difficult to go wrong in the process of implementing Scrum within your technology company. It simply follows the rules and processes in minute detail, making it easy for team members to stick to the methodology without bending the rules.
[mc4wp_form]
Microsoft Team Foundation Server (TFS)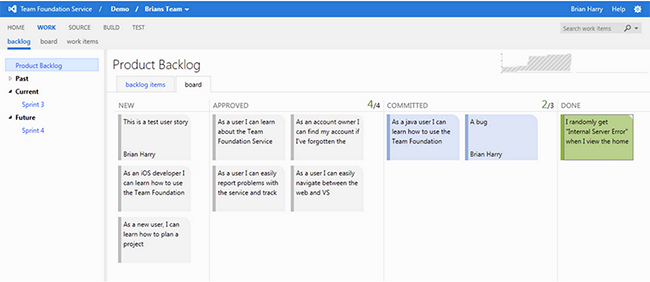 The platform has the following features:
Version control, for managing source code and other deliverables that require versioning.
Work item tracking, for keeping track of defects, requirements, tasks, and scenarios.
Agile planning tools (Product Backlog/Sprint Backlog/Task Board/Kanban Boards)
Team build, for enabling a common process for building executable products.
Data collection and reporting.
The Team Project Portal, which provides a central point of communication for a team project
Dev-ops integration. For developers, TFS has integrations into Visual Studio and Eclipse (and Eclipse based tools such as Rational Application Developer) as well as a cross platform command line tool for non-Eclipse users.
Basically, TFS is a collection of features that are shared by the various members of a project team to enable them to work together more effectively. Team members can share project plans, work products, and progress assessments.
The platform is specifically designed for integration and extensibility. Users can customize elements of TFS and complement it with new functionality.
The Cons Section:
Changelists are not created until work is submitted. Workspace views are simple 1:1 mappings.
TFS offers basic branching and merging. TFS's lack of support for advanced merging hampers productivity.
Scaling TFS to support a large user base, distributed work, or heavy data volume can be a complicated task. Despite the complexity of a TFS deployment, simple data replication is not supported.
Agilo for Trac (formerly know as Agilo for Scrum)
A web-based tool to support the Scrum process. It's free and open source and can be extended with a subscription to Agilo Pro for additional features and professional support.
Main features:
A simple and intuitive interface
Support the three scrum roles: Developer, Scrum Master and Product Owner.
Enables users to create hierarchical tickets to aggregate tasks into stories.
Prioritized Backlogs and support to plan stories to sprints.
Burndown charts show how quickly you and your team are burning through your customer's user stories. It shows the total effort against the amount of work they deliver during each iteration.
The Cons Section:
Each license supports only a single backlog.
Users are not allowed to attach files to backlog items or tasks.
Does not allow any API or data import/export.
Defects are not included as a specific type of backlog item.
Trello - A collaboration tool that organizes your projects into cards and boards.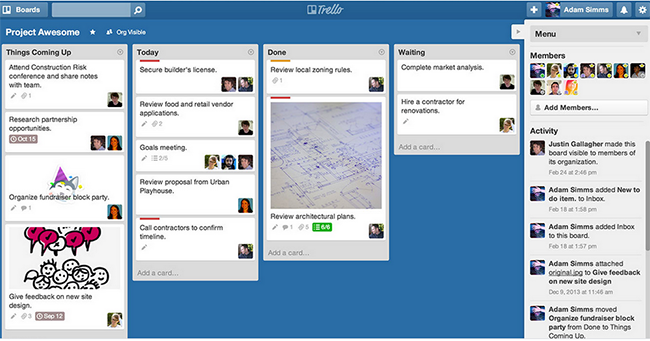 You can see what's being worked on, who's working on it, and which members and files are associated with each task.
Boards are made up of multiple cards which can be organized into Trello Organizations.
Cards can represent anything starting from a bug and ending with a story lead, a legal case, a client, a potential employee, a customer support issue, etc.
Cards can be moved from list to list, and board to board
Board members can add themselves to cards, start conversations on cards, create checklists on cards, get notifications and more.
The Cons Section:
Users have complained Trello doesn't have features they need to, for instance, track software bugs.
Too simple can actually be ineffective for software development companies.
It does not have a calendar.
No Gantt chart
It does not calculate the amount of time that users spend on a task, which highly impacts reporting and analytics.
Rally - An internet-based project management software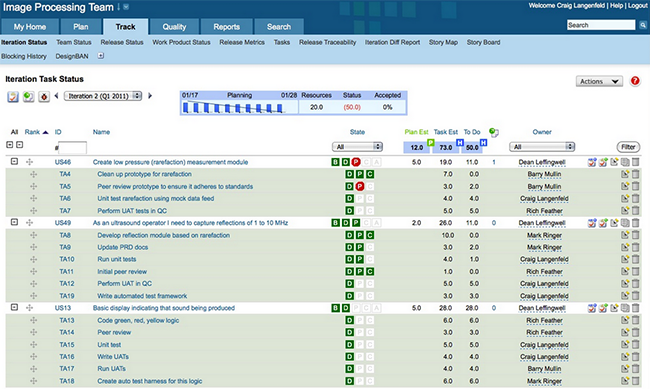 The software's main features include:
Iteration tracking
Customized visibility, with the possibility to add custom dashboards and swimlanes for Kanban, Scrum, or other approaches.
Reporting functionality including burndown, burnup, velocity, and flow.
Test management. It allows the integration of functional as well as regression test planning
Release planning. Allows users to build roadmaps that balance scope, capacity, dependencies, and risks
Customization. It supports process and reporting, including the Scaled Agile Framework.
The Cons Section:
No Gantt Charts
If you are planning to migrate data from your existing ALM (non-Rally), you will get the OOB connectors, but the process is not as simple as one may have initially imagined.
You need to connect your Software Configuration Management with Rally
VersionOne - A web-based application mainly used for task management.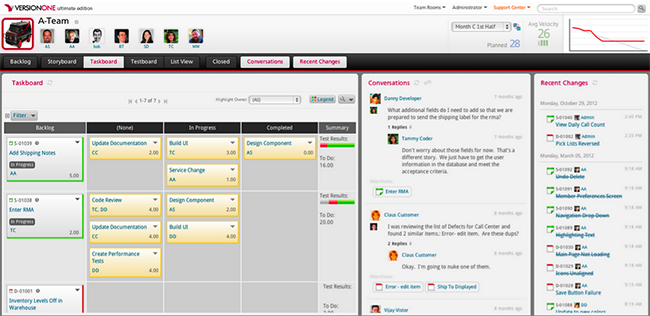 VersionOne's main features:
The app can be used to plan and track all elements of a project, across multiple teams, projects and portfolios, through epics, stories, themes, tasks, tests, issues and defects.
The software includes features for agile portfolio planning, sprint planning, product planning, and release planning.
VersionOne also provides collaboration tools through shared online spaces, conversations, and customer collaboration tools.
Has a social media like communication tool called dubbed 'Conversations' to discuss work and ideas.
Reporting & Analytics functionality.
The Cons Section:
It is not a specific Scrum tool. Fitting into a variety of niches could cause some problems for teams who choose to use it.
It is not very user-friendly. Those planning to use the tool will probably need a scrum trainer to teach their team how to adequately use the software.
Its templates are different from those generally used in the industry.
As a conclusion, if you are a technology company, you may want to use Jira, TFS or Rally to support your new Scrum approach. They are specifically designed to serve this purpose and they can streamline the processes along the way.
On the other hand, Trello, Agilo and VersionOne are not specific Scrum tools. Trello can be used by anyone for anything. Boards aren't necessarily "projects," cards aren't necessarily "tasks" and collaborators aren't necessarily "teams." Agilo doesn't have defects included as specific backlog items, while VersionOne is not at all user-friendly.
Something to look forward to…
Our next article will be dealing with Scrum Roles. The client is not necessarily the PO. Stay tuned!
YOU MIGHT ALSO BE INTERESTED IN
The Essential Role Of Trust In Product Development
As you get ready to build your product, you'll need a team you can trust to take the best possible decisions.