The life of a startup depends on an idea. The product design process can bring it to life.
Your idea will transform the market and the world. If only it were this simple! Many times, great ideas end up wasted for lack of an efficient plan to properly showcase it to investors.
After all, the causes for startup rejection revolve around the incapacity to build something tangible and the appearance of an inexperienced team. All of this can be dodged very practically - by presenting investors with an actual app prototype.
Enhance your credibility in a few steps
Add a little bit more structure to your business case and you will, eventually, be able to convince investors that your idea has potential. Define it properly and, even more, build the mockup (with the limited resources you dispose of in the beginning). Implement a few easy steps at this stage and you will ease your future development efforts as you grow.
By starting with your ideas and thoughts, the product design process will allow you to have a clear picture of what your product will offer to the end users, how it will behave and feel and the amount of effort that will be required for development.
Define the Scope and the Functionality
You're probably aware of these 2 fundamental aspects and so are your investors. Make sure you don't miss on any of the core functionalities by pinning them down as thoroughly as possible.
Purpose: Capture the functionality that will be implemented and bring a wholesome understanding of how the app will work. You already know all this, but investors don't.
How: Describe each functionality, in order to have a bird's eye view of what will be included and what will be left aside.
Product Description: "My Lovely App" is an application built for (blank space) who want to (blank space). The system will have the same main functionalities as a (blank space). The main scope of such an app is to (blank space). It will help all (blank space) who need to ease their (blank space).
Context: What are the exact conditions under which your target persona will be using the app?
General specifications: Will the app be multi-language, standalone or automated? Will it be web-based or native?
Hardware components
Software UI components
Functional specifications:
What will each screen include that punctually responds to the context and the buyer persona's needs?
Non-functional specifications: Performance and security-related aspects that ensure the smooth functioning of the app and data protection for users.
Create a Concept Map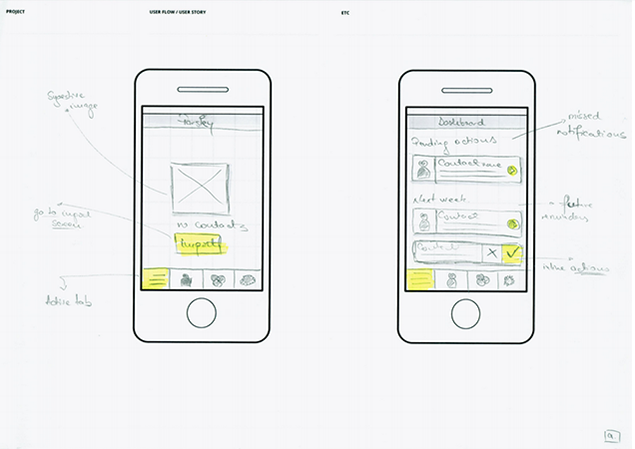 You need to give a clear representation of all the interactions and transitions possible in the application from the user's standpoint. This creative part of the product design process will show you are truly focusing on the most important aspect: the user.
How: Analyse the user flow in each of the application components and draw sketches that represent all the paths and the interactions a user can have. That's right, draw them. Nothing fancy.
Wireframing
This is where things start to get serious. During this stage your app will begin to look like an actual product. It can actually make the difference between a team that's pro and a dilettante one.
How: Starting from the concept maps elaborated during the previous step, create a minimal design of each product screen. Recommended for the first few iterations is to draw them by hand, and after you've decided on the general direction wanted, allow the designer to digitize the last version and continue working on the rest of the screens.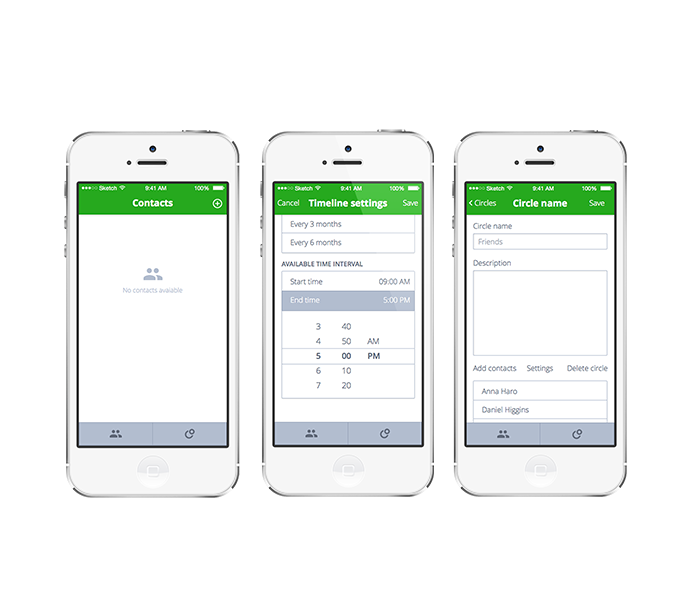 Use cases, development estimates and app versioning
Try to think of all the possible scenarios a user would take part in while browsing the app and then take notes. Study the notes and put together a dedicated document.
How: Imagine the standard flow and the exception flows associated with every main functionality of the app. Each of the use cases generated can be assigned an approximate number of development hours. Therefore, once they actually start working on your product, your team's work will be hugely simplified.
Based on the use cases, on the functionalities and on the requirements, each version of the app will be part of the broader implementation timeline. This will help pinpoint all of the main stages your app will cross, beginning with the MVP. Now that's something that shows responsibility and commitment.
The clickable prototype, the genuine investor bait
It's known for a fact that getting people convinced to invest in an idea is not a child's game. In a startup world where competition is acerbic, what better way to seal the deal than demonstrating the virtues of the app in the most practical way possible?
How? By linking all wireframes so that they represent the look and feel of a finished product. This will complete the product design process in a unique, original way.
Devote as much time as needed
It's true that while on the search for making the world a better place there's hardly any time for stopping and smelling the roses. Much less for streamlining a whole process that can eat up to 6 weeks of your time or more, depending on your daily availability.
While all of the aforementioned steps can help you conquer investors' hearts, they can also work wonderfully if
what you need is a prototype that would convince your first big client (if you're working on a B2B product).
you're looking to perform some usability tests with potential users (if B2C is your thing).
When going for the startup dream, every concrete action you undergo can take you one giant leap closer to it. Take the time to evaluate your resources and get to work. Success can be just around the corner.
Do you have an idea that you'd like to validate before showcasing it to your investors? Let us run you through a Product Design process and build a prototype that's tailored to your context!
YOU MIGHT ALSO BE INTERESTED IN
How To Pitch Your Startup Powered By Product Design
Read our eBook and see how you can make the best case for your startup in front of investors.