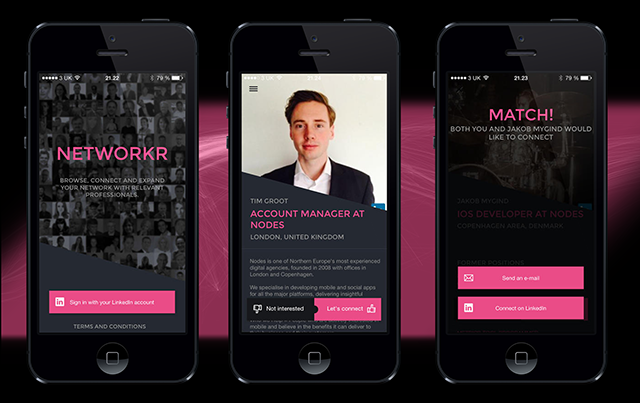 Nowadays, networking is really important. Human interaction has its advantages in personal and professional life. When it comes to business, meeting entrepreneurs, socializing and sharing ideas is a must. These kind of connections are also mandatory in the running of a startup. We all know that LinkedIn is the perfect social network for building professional relationships. But what would you say about a social app with a more personal approach?
Networkr is a social media app that enables people to connect with professionals of their choice in their geographical area. Users can see the profile picture and the job title of others (these are powered by users' LinkedIn contacts), and based on their area of interests, they can push one of the buttons: Not interested or Let's connect. If both users show interest to connect, Networkr sends a match notification. From then on, they can move to LinkedIn to get down to business.
There are similar applications on the market. For instance, Let's Launch takes you out for dinner with your nearby professional, and Weave also gives you the chance to professionally network and meet business people. Actually, Networkr is trying to bring a different perspective on the market. It's certainly early days for this app, but it will surely make more improvements in the near future.
What makes Networkr special?
clean and simple interface;
easy-to-use toggle and slider controls;
the fact that it focuses more on conferences and events;
it displays each user contact in a simple, card-style format with their photo and job title/ employer prominently displayed, and some other details;
it has a very clear goal: to connect business people and make their interactions easier;
it lets users view potential business matches in their vicinity;
it offers them a simple process in order to make the selection.
Steps
If there's one thing we found really useful (besides the main reason of using Networkr), that is the app simplicity. After installing it, users have three options:
1. Browse for contacts. If users want to start the search process and find new people, they are on the right track. Things are pretty simple: if they find someone they are interested in, the Let's connect button has to be pressed. Afterwards an email will be sent to that prospect or a connection on LinkedIn will be established. There is also a Not interested button. If you go for this one, the app continues showing you some other prospects that you might want to get in touch with.
2. Access a list of connections: My connects. Users can have access to a large list of all the people they were interested in.
3. Change the Settings. This area helps you find prospects from different areas. The search radius goes from 100 m to Everywhere. Also, there's a feature that lets you establish which area you are in/ you are interested in: marketing, tech, startups.
The agency behind it is Nodes, a London and Copenhagen based agency specialised in developing mobile apps for iOS, Android and Windows Phone. They are experts in social applications and integrations.
YOU MIGHT ALSO BE INTERESTED IN
The Essential Role Of Trust In Product Development
As you get ready to build your product, you'll need a team you can trust to take the best possible decisions.
Happy app-ing!