The FinTech industry enables financial service providers to create new opportunities through strategic alliances. The main challenges when developing a Digital Product for such businesses remain doing so quickly, while still maintaining a high level of quality and getting market validated results. And where better to run a workshop on how and why to establish Agile Partnerships than in the main contender for Europe's No. 1 tech hub, Berlin?
Who Should Attend?
While the Workshop mainly focuses on catering to the needs of C-Level executives, VPs, Project Managers, Department Managers and Consultants from the FinTech industry, the topics discussed during this event are of interest for companies of all sizes wanting either to launch their own Digital Product, or to find better ways of competing against market-disrupting startups, all through Agile Partnerships.
Why Should You Be There?
As an attendee, you will discover the most important aspects of key strategic alliances, and why your Agile Partner should have a multidisciplinary team, a clear Methodology and a proven track record of building Agile Software Development Teams, so that businesses can get the ball rolling after being consulted in this regard. A skilled partner, whom you'll be able to select using the criteria detailed during this Workshop, enables the business to maximize the success of the Digital Product, while minimizing the risks that could appear while or after deploying it.
One of the attendees will get the chance to win for their company a day-long "Product Opportunity" Workshop completely free of charge, so that the proven Thinslices Product Development Methodology can be used to complement an existing Digital product Idea, on the condition that they've shared it with us prior to the main event.
Who Will Facilitate the Workshop?
Andrei Gheorghiescu has leveraged Lean Process Improvement and Agile Teams to bring value both to the 4 startups he has founded to date, and to all of the other ventures that he has been involved in over the past decade.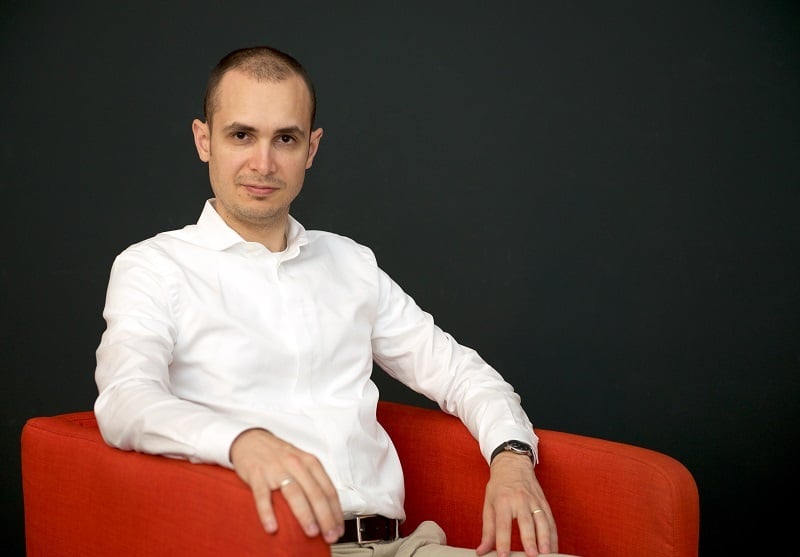 The innovative solutions he finds to business challenges have made him the right team member in more than 100 software projects developed for companies of all sizes, including corporations such as Disney, General Electric and NBC, where he has played roles ranging from Project Manager and Developer to Product Owner and Designer.
Managing the Thinslices Consulting business line enables Andrei to use an unique mix of Software Development and Business Development skills, as well as the company's continuous success, to improve the Agile Digital Product and Business Development of every business partner.
What's on the Agenda?
During the Morning Session you will discover all of the aspects that you should be aware of while your idea makes the transition to a market fit Digital Product, including:
The

Digital Product Lifecycle

and a general layout of the Product Development journey
Ways to

shift from a Seller-centric market to a Buyer-centric one
The core practices of

Agile and Lean software development
On the other hand, the Afternoon Session will focus on the practical aspects of Agile Partnerships, including:
Reasons your business could use an Agile Partner or a Consultant

The Process of selecting an Agile Partner
A practical illustration on how to apply the concepts detailed during the Workshop
The topics explored during the workshop include, but don't resume to:
Innovation from 0 to 1 and from 0 to 1000

Methods to become better at buying than "they" are at selling

What is Technical Debt, how can it kill a product, and how can you avoid it?

Who pays for Bugs?

Agile Planning

Digital Product elements that can be bought with time or money

Ways to handle the differences from the end product and the initial idea

Agile Development and the Triple Constraints (Budget - Time - Scope).

The definition of Quality
This is not a workshop you'll leave empty-handed, as you will be given the digital handout of the event, so that you can use the Process and Concepts presented here right from the next day.
Event Time, Date and Location
Our Strategic Partnership Workshop will be held on Wednesday, September 15, 2016 from 10:00 AM to 6:00 PM (CEST) at Design Offices Berlin Am Zirkus - Bertolt-Brecht-Platz 3, 10117 Berlin, Germany, so make sure you mark it in your calendar, if you wish to attend.
Tickets are free of charge and can be reserved until September 14. Book your seat now!
YOU MIGHT ALSO BE INTERESTED IN
The Essential Role Of Trust In Product Development
As you get ready to build your product, you'll need a team you can trust to take the best possible decisions.