What's next?
Business calendar apps should quickly answer to this question. From this point of view, we think Sunrise does a very good job. Its feed has always been a main feature. Users get a big list of all their next activities. Moreover, when they want to schedule a meeting, they want to know what the availabilities are. This is when the week or month view feature comes in. By pressing the new "week view" button, they see how their program looks like on a screen that turns into a readable week calendar.
Usually, people decide to use a calendar application to keep all their stuff in one place. And organizing things must have a fun part too. That's why the Sunrise team has put a lot of effort into offering an interactive experience. Getting information in the shape of Facebook events, seeing the faces of the people you will meet with and finding out about all your Google events reassures you that you won't miss anything.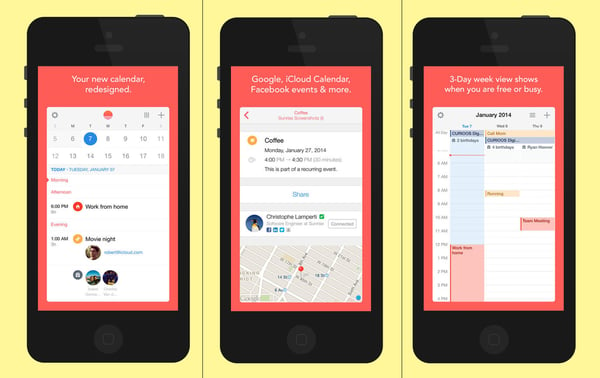 Why would you be excited about this app when there are so many others out there?
Because:
Clean, simple and smart user interface

Nice touches: colorful buttons that show you how many minutes there are until the meeting

Events can be quickly added on your list

Diversity - appointments, birthdays, location tags

Interactivity - it lets you invite friends or coworkers to events right inside the app

Google Maps directions

Distinctive icons for different types of events

Complex pictures of what you have done in the past and what you must do in the future.
Sunrise is a free business calendar app made for Google Calendar, iCloud and Exchange, designed for iPhone and iPad. From what we've heard, the company works on an Android version too, without losing focus on making improvements on the existing ones. They have focused on developing the iPad version because it turned out that a lot of people want to work constantly, from anywhere in order to feel productive.
Good job, guys! Let the awesome and organized working days come.
What app are you using to get your stuff organized?
Happy app-ing!
YOU MIGHT ALSO BE INTERESTED IN
The Essential Role Of Trust In Product Development
As you get ready to build your product, you'll need a team you can trust to take the best possible decisions.