Recent mobile usage numbers.
Mobile is all around us. In the United States, the average mobile consumer spends around 3 hours per day on their mobile devices, which makes a total of approximately 19 hrs in a week, 3 days in a month and 41 days in a year. Moreover, individuals aged 18 to 24 check their mobile phones every ten minutes. In May 2014, Nielsen's Cross-Platform Report stated that men spend an average of 29 hrs and 32 min in-app per month; women are tempted to use apps more than men, with 30 hrs and 58 min spent inside an application.
When choosing between regular mobile browsers and mobile apps, people will turn to the latter. To sustain this statement, recent statistics found that Americans now spend 86% of their mobile time inside an application.
State of the mobile OS industry
Nowadays, there is a widely known on-going battle between Apple and Google, forcing users to make a decision between iOS and Android, when choosing an operating system for their devices. With interesting 2014 business moves such as Microsoft buying Nokia, other OSs stand no chance, compared to iOS or Android. Unlike long lost days, when Nokia was the leader of the mobile market, its handset business alone reported losses of $1.07 billion while being taken over by Microsoft.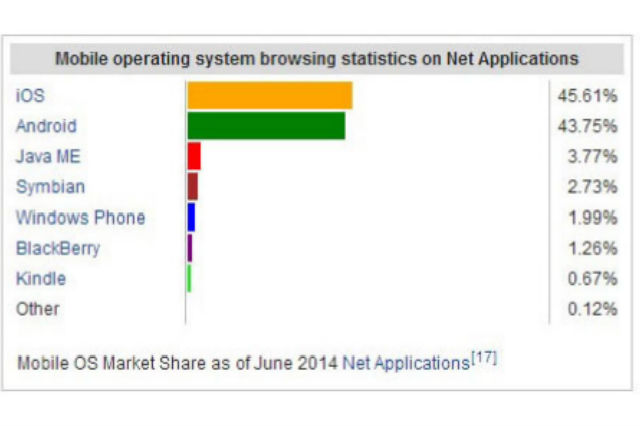 Image credit: Wikipedia.org
Microsoft is also trying to turn Windows Phone into a relevant competitor for iOS and Android devices. However, since the mobile platform development industry is practically ruled by iOS and Android, Microsoft's plan is a long-term one, and it includes a market share of 6.4% in 2018.
Things are not looking good for other OSs either: both Blackberry and Motorola reported losses in the last quarter of 2013. While the latter lost approximately $1 billion, Blackberry suffered serious hits, with damages racking up to $5.4 billion.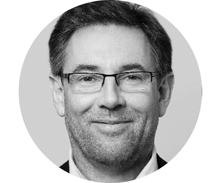 According to Bengt Nordstrom, the head of the Swedish consultancy firm Northstream, All those historic handset makers like Nokia, Motorola and BlackBerry completely missed the boat when the smartphone arrived. They missed the touch screen step.
But Apple and Google did not.
Who wins the struggle for OS supremacy?
This is where opinions are truly biased. While some claim Android is the leader of the market, many others say iOS wins because, in time, it has gained a richer audience. iOS devices are generally more expensive than Android ones, and consequently, people who are interested in purchasing them are prone to buying apps instead of downloading them for free.
Since Android devices are cheaper, it would not be rash to conclude that its users have smaller yearly incomes. Therefore, most Android users are interested in installing free apps.
When looking into actual numbers of application downloads, it appears that, in the long run, it is Apple that is winning the fight.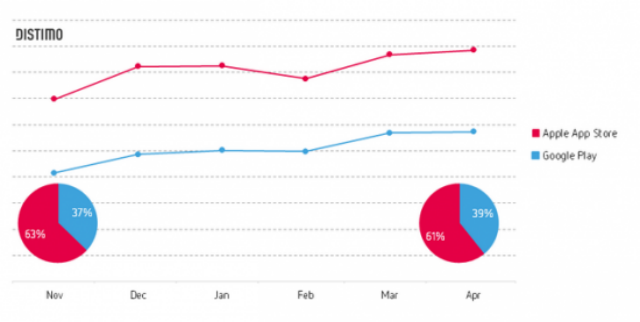 Image credit: Distimo - Top Global Apps, April 2014
Which one is the sales champion? Let's talk about revenue.
App Annie is an application that provides insight on app analytics and market data. It published a recent study for evaluating download data from app stores in 150 nations. Results are stating that Google Play is the winner in total app downloads. However, Apple's App Store is producing 80% more revenue than Google. According to Business Insider, this means that an Android user is worth one quarter of an iOS user.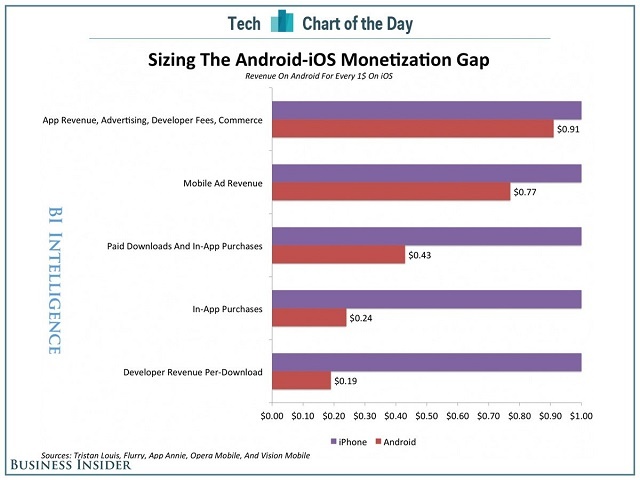 Since most entrepreneurs that invest in the development of mobile apps are interested in getting back revenue, the information above is crucial in establishing a business plan and in choosing an operating system for which to develop a product.
Where on the globe does Apple win? Where does Google?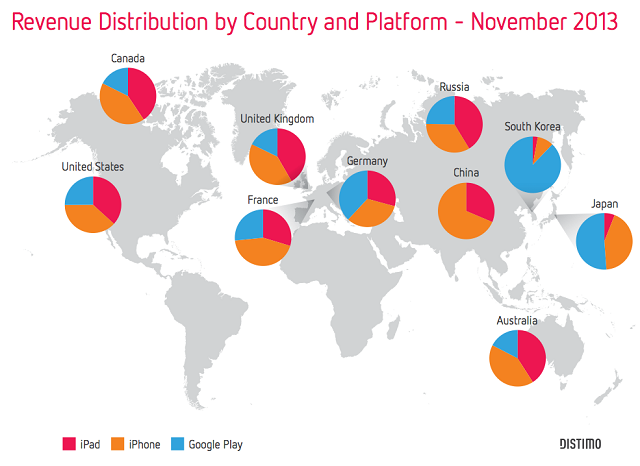 Even though pricey Android phones do exist on the market, the world is buzzing about the cheap ones. By looking at the image above, one can easily understand where Android phones are being sold. Interestingly enough, in spite of the fact that China is now selling Android smartphones at the groundbreaking price of $35, iOS devices still rule the local market.
A rather similar situation now exists in the UK. Since Google's Moto G can be purchased at a low price, the device quickly conquered 6% of the market. According to The Guardian, the smartphone was popular with men aged 16-24 mostly because of its price: 83% of buyers were male and 40% had annual incomes below £20.000.
So which platform is winning when developing mobile applications?
Google takes pride in declaring that Android has a market share of 85%. However, this figure is highly irrelevant when pondering upon the actual number of smartphones that exist worldwide. In fact, smartphones make up around 10% of this number.
The bottom line impact is more important for those who intend to create apps and it basically consists of smaller total incomes in the Android ecosystem than in the App Store. Since numbers speak for themselves, it would not be an understatement to conclude that those who develop mobile applications for iOS devices will, in time, sell better and gain a higher total revenue.
YOU MIGHT ALSO BE INTERESTED IN
The Essential Role Of Trust In Product Development
As you get ready to build your product, you'll need a team you can trust to take the best possible decisions.