Business has gone mobile
No surprise in that. Strong collaboration is welcomed in every project development process, as long as it helps the team members share their ideas, create clear structures, follow them and avoid misunderstandings.
In his study, Jim Lundy, CEO and Founder of Aragon Research, concluded that "Traditional physical whiteboards are among the world's most proven collaboration tools, as evidenced by millions of corporate meeting scenarios". In the same time, he mentioned that a lot of people attend meetings and access information from their mobile devices. Therefore, a virtual whiteboard seems to be the best solution. We looked for solutions and we discovered Zamurai, the mobile-first real-time whiteboard app that enables professionals to capture, share ideas and communicate. Zamurai only supports the iPad right now. You can view it using a 3rd party software on a desktop or laptop.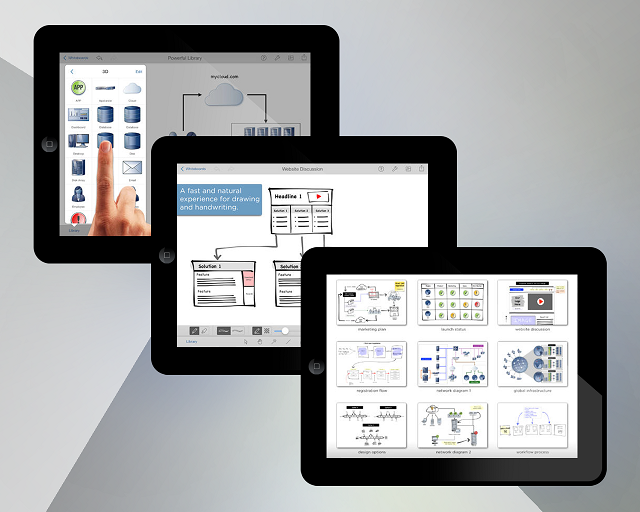 How Zamurai iOS whiteboard app works
Zamurai has a simple interface and a clean design, so that everyone can use it easily. The iPhone and iPad apps are perfect for daily meetings, because they keep everyone on the same page. The virtual whiteboard can be shared with team members or clients, helping the whole team make sure that everybody gets a clear understanding of what has been discussed.
Even if, at a first glance, the app looks very simple, it is powerful and it presents a complex set of features:
the icon library includes Sketch, 2D and 3D images. By using them, users can create and personalize their whiteboard quickly;
if they want to add their own icons in order to transmit a clearer vision of their work, they can customize the icon library. The app supports a large set of images.
the app provides an infinite canvas, so all ideas can be written down. It also lets users zoom in on a certain item and zoom out in order to get a bigger picture.
with the Zamurai draw tool, users are able to give their presentation a more personal look and feel.
users can select the size and the text color in order to format their text.
for a clearer structure, the app has a Line and Shapes feature, which allows members to add lines and basic shapes to the whiteboard they are creating.
moving images to the front or back can be done by using the layering feature.
users can manage their whiteboard in the Portfolio. They can group, search, rename, delete, copy and share all the information right from the Zamurai iOS app.
if they aren't in the mood for typing, they can speak while their words appear in the Zamurai app, by simply activating the microphone screen.
sharing whiteboards is also easy, especially as there are many possibilities to save the work: users can email it, save it as a PDF or as a photo and send it to their colleagues.
Why give Zamurai a try
Because you can:
reach a high number of customers including mobile users. A mistake that businesses often make comes from limiting their target by not following all their customers' needs and behaviors. Lately, in the business context, going mobile became mandatory. Failing to adapt your strategy to the actual requirements comes with the risk of losing important clients.
sell faster. Listening to customers is the best sales pitch. That's why communicating should be a priority in the selling process. Static presentations are useful too, but interactivity seems to work much better.
enable true collaboration. Whiteboards do a great job, but, unfortunately, they require physical presence. Therefore, the members who can't attend the meeting lose the chance to see what is happening on the whiteboard. Although people usually take pictures of it, it is not an ideal solution, because of their poor quality. Instead, working in real time on virtual whiteboards enables all the members to make changes and share their ideas from different locations.
save some working hours (save time). Zamurai is simple to use and it takes less time than the traditional method. It allows users to draw with their finger or stylus. They can also use icons in order to customize the discussion and make the strategy plan look good. It even lets them upload images that can be included in a "branded" presentation.
save and sell higher. Losing documents and notes is more likely to happen when the information is kept in different places. The thing that we liked the most is that Zamurai app lets its users save their work, so they can return to it. Selling processes take time, and users often require all necessary documents before the sale is finalized.
Conclusion:
The way that a company communicates to its prospects is one of the most important aspects of a business strategy. Sales are critical for companies' success, and so are the sales methods. It's known that best sales meetings aren't conducted through presentations anymore. Conversations achieve their full potential by giving entrepreneurs the chance to show and explain to their clients the development process, discuss the expenses and the risks. So, finding the suitable tools in order to do that seems to be the right way to go.
YOU MIGHT ALSO BE INTERESTED IN
The Essential Role Of Trust In Product Development
As you get ready to build your product, you'll need a team you can trust to take the best possible decisions.