Fortunately, staying in shape is made easier nowadays, with the help of a fitness app for iPhone. Surely, anyone's heard about Runkeeper or Map My Fitness. But what about other tools? Tools that give you the choice between a sports-tracking tangible instrument and a clean mobile application?
Start living healthy with Fitbit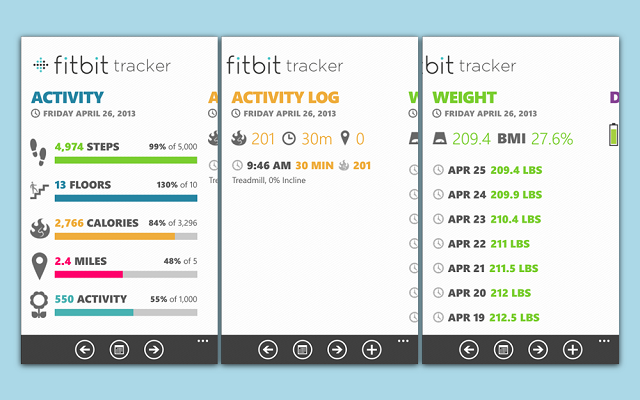 Fitbit initially focused on creating a bracelet that specifically tracks physical exercise. Since the bracelet comes at a cost, some may only be interested in installing the app. Which is why Fitbit also made free mobile versions of its product both for iOS and for Android devices.
What's different about this fitness app for iPhone?
Using the app allows users to visualize how much time they spend on actual physical exercise. Not only does it ensure you can keep track of calorie loss, but it also allows individuals to add calorie intake. In fact, a user can select from more than 350,000 available foods.
Staying true to the cause of weight loss is made possible the help of setting goals. At the beginning of each Fitbit journey, users must introduce some basic info into the system, such as current weight and goals they intend to reach. According to this data, Fitbit creates individual plans.
A regular Fitbit user can benefit from tracking all-day activity, including number of steps, running, exercise, sleeping and the distance one may cover. Also, recording workouts and analyzing monthly statistics helps to better follow previously set goals. Stats can be checked visually, with the help of charts and graphs. The app contains a calendar dashboard, where people can monitor their exercising patterns, such as the days in which they're more prone to using the app.
Use Fitbit for weight loss
Reaching your ideal weight is made easy with the help of personalized plans, that are designed according to your initial weight, sleeping hours and the desired achievements. As we were mentioning above, logging food is also made possible from inside the app, either by introducing it manually or by simply scanning barcodes.
Even if discovering a meal is sometimes not possible because of the sometimes limited (although immense) database, the app can suggest other foods that are similar in number of calories, ingredients and method of preparation. Fitbit can also suggest side dishes to users; these recommendations are based on their previous preferences. A rather recent feature, Calorie Coaching, assists users in creating food consumption goals that should be targeted on a daily basis. This "instructor" can always adapt calorie intake depending on the amount of calories one has lost during that particular day.
For competitive individuals, Fitbit makes it possible to compare results with friends and acquaintances. This helps both with boosting their confidence and with keeping them committed to their exercising cause.
Mobile Run - the ultimate tool in tracking physical activity
Two of the main advantages that using FItbit offer are the following: the app is completely free to download in the App Store and it gets updated on a regular basis. The latest changes include the introduction of a feature called Mobile Run, which is the actual tool that measures pace, distance and even split times. From a technical point of view, Mobile Run is based on Apple's M7 motion co-processor.
What's interesting is that Fitbit doesn't actually support direct tracking of other activities aside from running, but it can sync with other applications that act like pedometers. For instance, Fitbit can automatically crawl exercise information from My Fitness Pal. As they run, users can be personally entertained by the app, that "speaks" to them, commenting route history, distance and mile markers.
To enhance any exercising experience, it even has a built-in music feature, which allows individuals to manage their playlists from inside the application. Fitbit users also have the possibility to login to their iTunes account.
With its friendliness, simplicity and clean design, Fitbit is a useful tool for anyone who wants to get or keep in shape.