Thinslices & Audora - Bringing automation in the audit world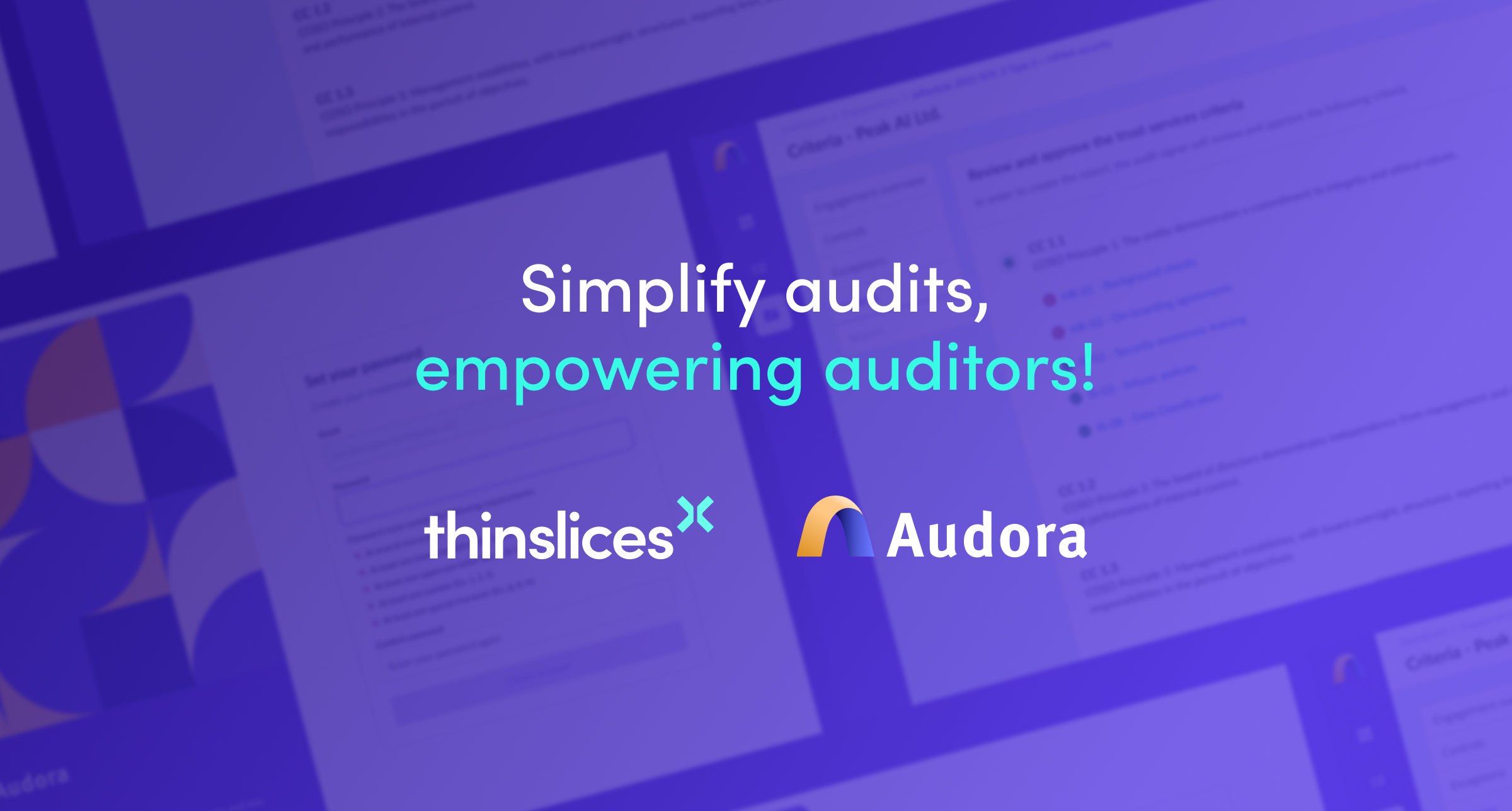 Back in November 2022, Thinslices was embarking into a new and exciting development journey together with Audora's co-founders, Alex Nette and Brad Thies. Starting small yet dreaming big was the outline for our product discovery sessions.

We started with ideation sessions to map out the core value proposition of Audora and draw down the specific burning needs the platform was meant to address. From there, we rapidly created the user personas, created the first set of wireframes, refined them into Figma prototypes - and brought the foundation of Audora to life.
The SaaS web platform is set to revolutionize audit companies' operations by streamlining the audit process through transparent, standardized procedures. By automating repetitive tasks, Audora enables auditors and auditees to focus on the big picture while significantly reducing operational costs.
The Market Context
Traditional audit processes have historically demanded significant labor, time investment and distress for auditors. They had to contend with compiling and managing data from various sources, adding the extra complexity in data handling and analysis. Furthermore, for auditees alongside failure to comply with regulations, the process always looked heavy and complicated.
From its early stages of co-creation, Audora was well-positioned to tackle these concerns by automating manual tasks and ushering in essential enhancements through efficiency and transparency of the data throughout the entire audit process.
Our Approach
A multi-disciplinary team of people (project manager, product lead, software development lead, UI/UX Design lead, 4 x Frontend Software Engineers, 3 x Backend Software Engineers, QA Automation Engineer, Key Account Manager) was assigned to work on bringing to life the Audora MVP.

Together with our client, we decided to divide the product roadmap into four main pillars: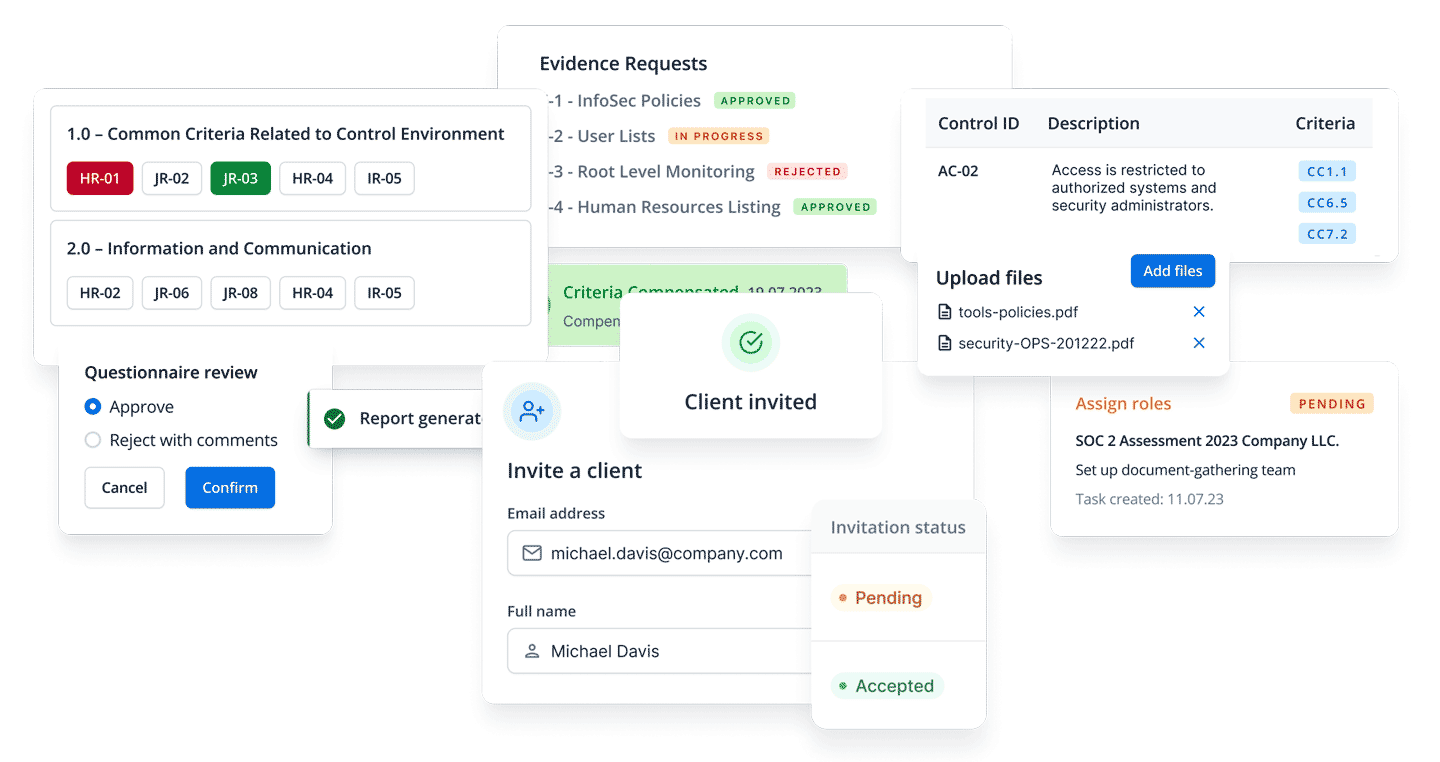 Platform and Infrastructure set-up as well as defining processes and ways of working, tools, and communication setup.
MVP development with its core agreed functionalities.
Preparations for post-MVP development, including user testing, feature clarifications and prioritization of new features.
Go-live and users onboarding process.
Thanks to our team's dedication and resilient approach, the Audora MVP was delivered on time and within budget. Audora is now live and ready to embark its news users into a simplified and enjoyable SOC 2 audit report process. This achievement paves the way for further initiatives, including integrations with 3rd party tools for increased efficiency, as well as new functionalities to support more use cases and frameworks like HIPAA, ISO 27001, HITRUST etc.
Our collaborative journey has just begun, and we foresee exciting developments on the horizon. Together, we will continue to innovate and create solutions that empower audit businesses to thrive in a complex regulatory landscape.
About Audora
Audora is the leading cybersecurity automation platform revolutionizing the auditing industry by turning disjointed siloes and inefficient workflows into a unified, transparent process. Built by auditors, for auditors, Audora's advanced technology offers a centralized hub that streamlines cybersecurity audits like SOC 2, enhances efficiency, ensures accuracy, and optimizes audit team capacity. Transforming audits from weeks to hours, Audora bridges the gap between auditor and auditee—turning audits into an opportunity, rather than an obstacle.
For more information about us, contact:
Denis Cristiana Oproescu: denis@thinslices.com
To book a demo with Audora visit their website: https://www.goaudora.com/demo