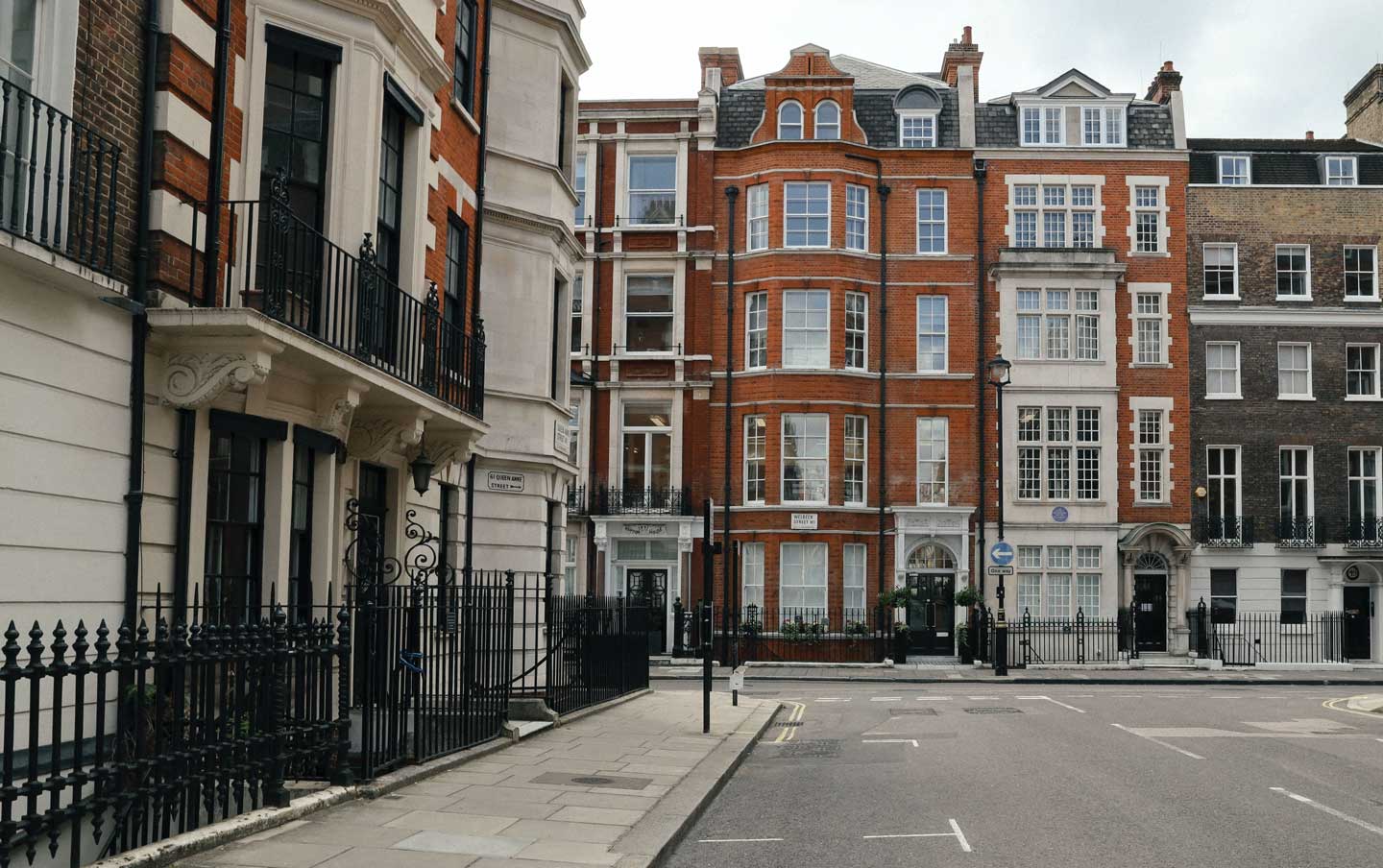 Founded in 2015 by Tahir Farooqui, Canopy set out to make the whole renting process easier, faster and completely digitized, to support consumers' desire for flexible renting and the ability to move easily between rental properties.
However, as startup founders well know, the road to a revolutionary product is paved with trial an error. A road that's marked by the struggle of finding the right people and the right teams, as well as constantly deciding between functional and innovating.
We met Tahir earlier this year through a friend of a friend of a client, and we went through a sort of a "speed-dating" process to get to know each other better and to get a feeling of whether or not we'd be a good business fit together.
The struggle to build the dream product
A great idea is almost never enough to make it in the digital startup world. More often than not, product ideas drown in the stormy waters of product-market fit, lack of investment and implementation.
With Canopy, Tahir had the Holy Grail of digital products, he had established a product-market fit, he had a strong early adopter base and he had found the funding needed. The implementation, however, was not on the same successful track, which is where we come in.
The objective
Our objective was to get a v2 version for Canopy with the ability to scale for an increasing user base.
We went through the product as it was initially built and started creating a big picture of the product's status and what we had to do in the next few months to ensure a good release.
The process
Business relationships are like any relationships, we had to ascertain that we're a good fit and that we are clear on the terms of the collaboration. To set expectations and to ensure a fast and easy transition from the previous teams working on the implementation, we went to visit Tahir in London for a week.
Together with Canopy's CTO, we worked on defining the scope of the project. We listed the fixes we were going to address and we decided to do a timeboxed collaboration. During the first phase, we wanted to validate our collaboration and improve existing processes to ensure a more predictable delivery. Following the success of this first phase, we decided to continue our collaboration in phase two, where we worked on developing the screening process for the Canopy RentPassportTM.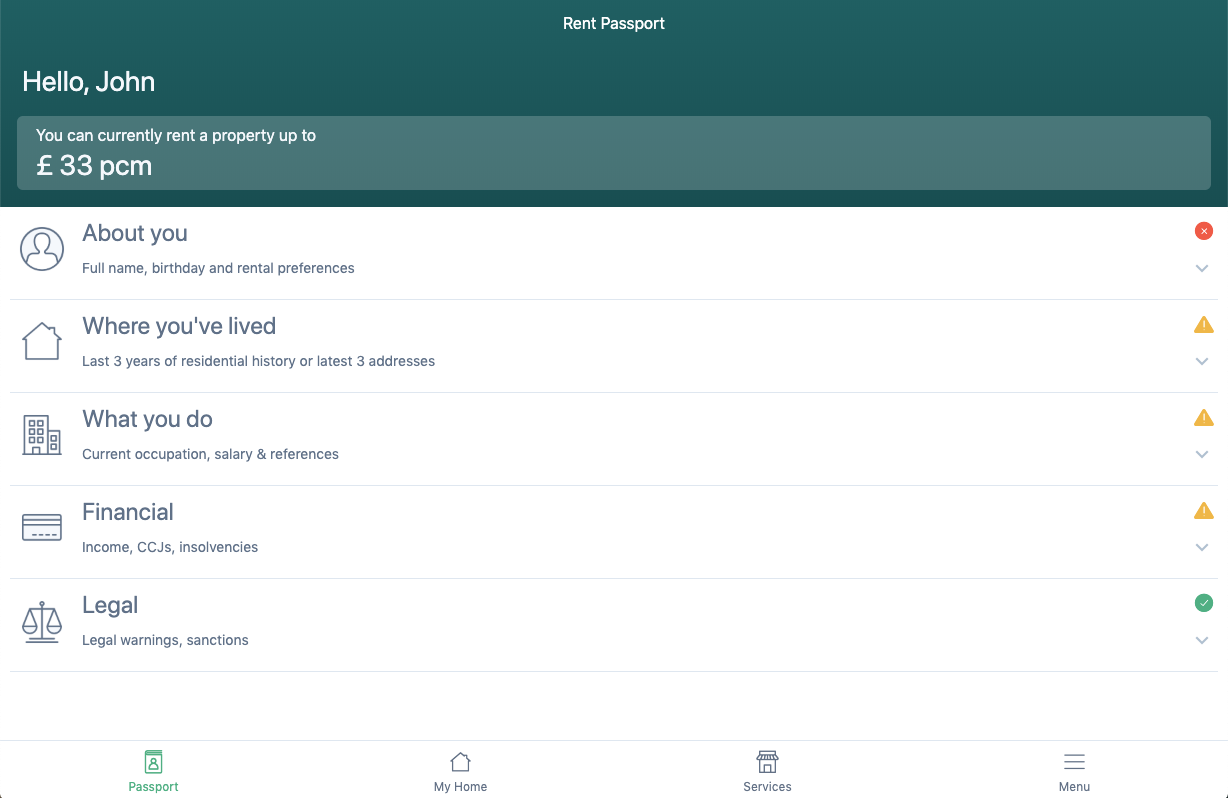 The solutions
During phase one, we started by assembling a team of five people (two frontend developers, one backend developer who was also the team leader, one quality analyst and one product owner) with the main goal of improving overall product functionality for critical features.
True to our usual process, we used Kanban with frequent releases to production. Our strategy was 'push fast for testing and make sure we release something that works'. After most urgencies were resolved, we transitioned to a more predictable delivery and started using Scrum with 2 week sprints, which allowed us to release bigger features. We organised in two teams and had weekly releases (every week one team completed their sprint and was ready to go live).
During these nine weeks of trial by fire, we continued to look forward to what the ideal product would be, and we suggested key elements of our process to Tahir and his team which they were very open to adopt. This led to a list of deliverables that included a list of technical debt, a detailed backlog of stories, a next version roadmap and an accountability chart for key people working on developing the product.
Our experience in working with remote clients proved to be a great asset as we managed to sync calendars across two time zones, ending phase one with Tahir's visit to our Iasi office where we held a two-day workshop to prepare for phase two which encompassed the following month and a half.
With our business chemistry validated, phase two set out to create an admin panel for Canopy employees to ensure manual validation for a renter's passport that couldn't be automated at that time and to improve the UI/UX of the agency-side admin panel, where agents manage tenancy agreements.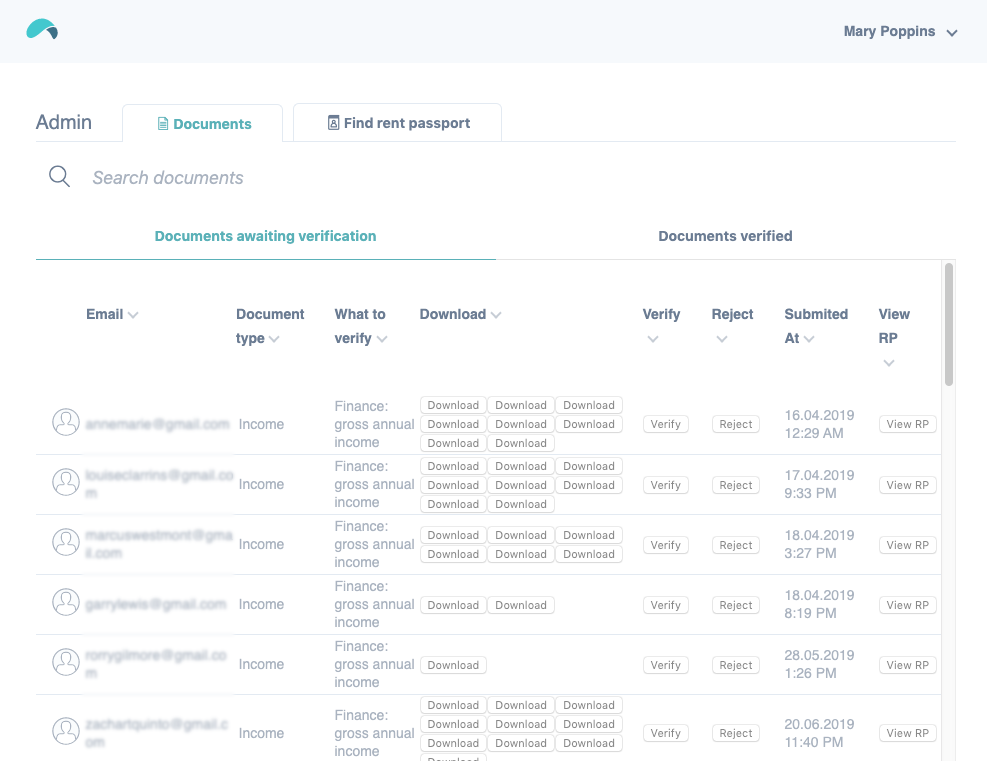 During phase two, we worked closely with another software development company involved in the project early on - Effective Soft. The accountability chart came in handy in this combination of teams, ensuring that we knew exactly who was responsible for making a decision when it came to a specific area of the project such as product development, architecture, process etc. This enabled us to speed up the project and free more of Tahir's time.
As we worked on the admin panel for the screening process, we focused on the agent flow while our counterparts at Effective Soft worked on improving the UI/UX for the renter flow.
Our second priority was to improve the look and usability of the agency-side admin panel, which included an integration with a third-party insurer. To ensure that the user experience was consistent with what Canopy had in mind, we offered to include custom design services that focused on improving the user flow, which turned out to be a great idea.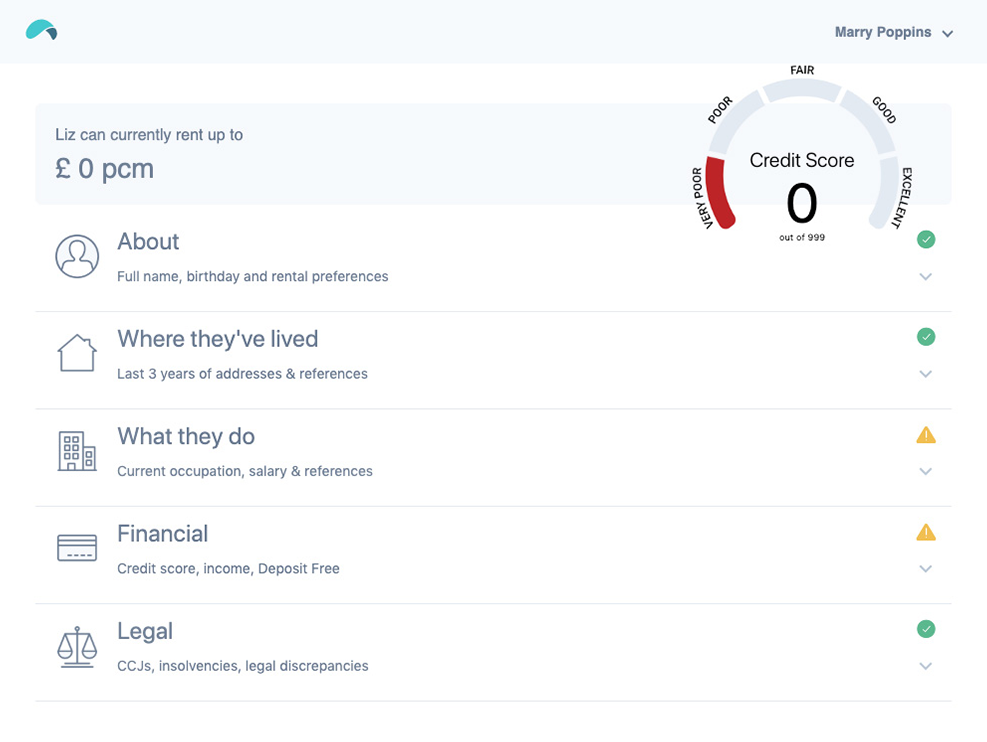 When our collaboration with Canopy ended in September, it was hard to imagine we were working on the same project as we did in June. Everything changed.

June was chaotic, a vicious circle between releases to production with high hopes and major issues reported in production that needed fast resolution, team members coming and going for various reasons.

September was still dynamic, but more predictable. We split into smaller feature teams, used Scrum, did release planning and regularly communicated to stakeholders about next releases, did demos to get feedback, gathered input for upcoming features. It was a dream.
Raluca Lupasteanu, Product Owner
Going the extra mile
One of our values at Thinslices is Diligence, meaning we believe in going the extra mile to deliver quality products. This was the basis for our team's decision to expand the scope of the project beyond what we'd timeboxed for phase two.
We realized that an integration with MRI would bring added value to the product and so we decided to include it in our backlog and expand the scope of phase two. Despite not having planned capacity for this task, we decided to take the time and find a way to implement this simply because it would make the product better.
Overcoming challenges
This was a very challenging project because of the number of variables involved and the short time span to get it done.
In terms of the project's objectives and scope, there was definitely a distinct pressure for Tahir to deliver an innovating product, which sometimes clashed with the pressure we felt to deliver a functional product. For every decision, we aimed to balance these two pressures, basing them on our proven processes and way of working which ended up saving us time and getting us to where we needed to go.
Remote communication is always a challenge in such a project. But it's also an opportunity to prove that you're committed to making this project successful and gives teams more flexibility in how they work. During phase one, Tahir would spend an hour every single day in a call with our team to keep things on track. By the end of phase two, our collaboration was more relaxed and more natural, as the results were coming in and everyone knew what they're responsible for.
Our commitment to going the extra mile led to several suggestions we made regarding the mechanisms that we use such as Scrum, technical debt lists and accountability charts, which lead to higher predictability of outcomes that both the Canopy team and the Effective Soft team appreciated.
I cannot thank you all for the support we have received from you in turning around my product and technology. You guys are amazing! Special thanks to Dan and Raluca. Their work ethic is commendable.
Tahir Farooqui, founder of Canopy
Final thoughts
Overall, this project had the right mix of a great product, a visionary founder and an extended team of people committed to bringing this product to the standard that it deserves. Our collaboration was very productive and we're really grateful to have found such a good business partner in Tahir.
This project is far from over and we're looking forward to a possible future collaboration because we really believe in Canopy's potential and we hope to see it become a market leader as insurtech continues to grow.