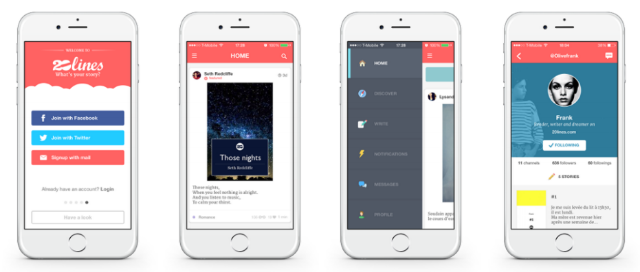 20lines is a writing mobile app that was launched in April 2014. In the fall of 2014, it had already gathered more than 100,000 registered users.
What is 20lines about?
The story of 20lines began with a web app. The 20lines website is still up and running, and it serves as an online platform for amateur writers. According to iTunes, 20lines is a part of the Social Networking category. Sharing is indeed possible from within the app, but its basic purpose is not related to any social media channels.
What features make 20lines an enticing writing app?
Writing and publishing stories at the tip of your fingers.
20lines users have the possibility to write up to 240 lines of content. Finished with your draft but aren't sure if it's publishing material? Save it with a simple click.
The actual publishing process is simple and effective. The iOS app is versatile and easy to use, thanks to a writing platform that features one heading and one piece of content. Although individuals aren't required to register, they need to create a personal profile in order to start writing and publishing.
As for the design, the background color is customizable. Consequently, any 20lines user may choose between white, beige and black. Along with backgrounds, covers can be tailored to any need or requirement. In fact, people can choose from photos that either exist inside the app and that have been used by others in the past, or simply upload any photos of their own. Moreover, cover templates allow individuals to set the precise placement of the title and of the name of the author.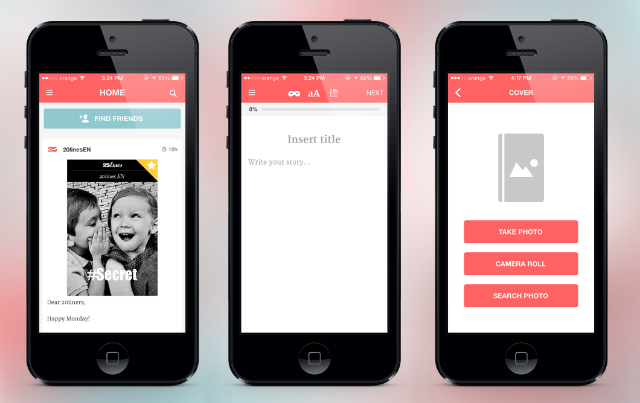 While anonymous publishing is also available, writers can subsequently opt for redeeming their story. The previously mentioned feature is made possible in virtue of the information kept in the cloud.
Creating an identity with 20lines
Sketching user profiles happens by uploading pictures and descriptions. Stories can be placed on the world map, which makes the 20lines community benefit from a high degree of social interaction. Getting in touch with authors via reading stories largely occurs because of a number of featured pieces of writing. Comments, votes and shares also establish a bond between the reader and the writer. 20lines supports sharing via Facebook, Twitter, Google+, Instagram, Whatsapp, messaging and emailing. Moreover, communicating with authors is possible via internal messaging from within the app, which allows users to create individual or group conversations.
Thanks to the search feature, individuals can read only what captivates their attention. Lack of time is no issue in the case of 20lines, as saving stories is yet another positive aspect of using the app, and they are also available offline. Any piece of writing can be grouped among others in a list and users have, at all times, the possibility to subscribe to any existing 20lines channel.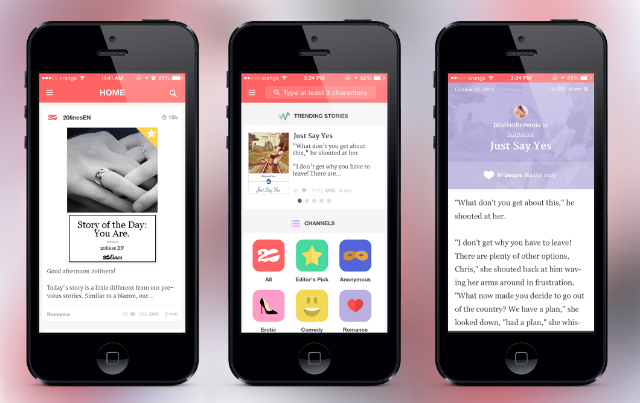 Discover content on a daily basis
The content of the 20lines app gets automatically updated, and pieces of text are instantly organized into categories: adventure, thriller, comedy, science fiction, poetry, romance, essay, historical, travel, children's and others. The "Discovery" feature of the app presents a list of the most popular reads of the day. As in the case of other apps, stumbling upon new content can be performed also via hashtags.
20lines is an iPhone writing app that is completely free of charge. It is no wonder that it has been featured as one of the Best New Apps in the Apple ranking, in more than 96 countries. The application supports an impressive number of languages, such as: Arabic, Norwegian, Catalan, Danish, Dutch, Finnish, Greek, Hebrew, Hungarian, Indonesian, Korean, Thai, Turkish, Ukrainian and Vietnamese.
YOU MIGHT ALSO BE INTERESTED IN
The Essential Role Of Trust In Product Development
As you get ready to build your product, you'll need a team you can trust to take the best possible decisions.