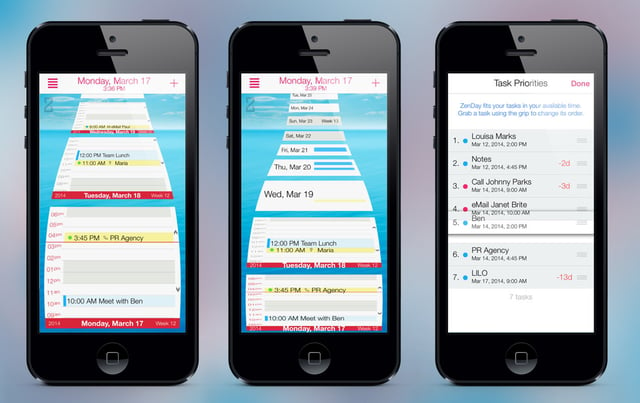 If you want to become successful, there are some rules that you need to follow during your self-development process. Hard work and continuous learning are two of them. Given that people face disruptive factors every day, time management should be their top priority if they want to perfect themselves. Once they know how to manage their time, they save hours, become more efficient, their productivity rate increases, and they have more control over their lives.
Speaking of time management techniques, the tech market is full of mobile apps that are meant to help users track activities, schedule meetings, send reminders, calculate work rates, etc. During the last years, we have used some of them on a daily basis. We even wrote reviews on productivity apps such as Remember the Milk, Producteev, Any.Do.
Last week, we discovered ZenDay, a fresh startup which hit the market with a friendly iOS time management app. It was designed to help users organize themselves better, maintain their work balance and fight procrastination. What we find very interesting about it is the fact that it displays reminders with their calendar events on a fluid 3D timeline. The iOS app is born out of a great idea and this is where its name comes from: in spite of having a busy and stressful life, people can still keep their Zen.
You'll install this app if you:
are interested in self-development
want to manage your to-dos and activities better
want to get a better time perspective
Self-development depends on how you plan your time, how you establish your priorities and how you plan on evaluating yourself. ZenDay takes this process, Plan-Do-Debrief, very seriously. It keeps all your tasks in just one place. By letting you set your goals very easily, organize and plan your time effectively, you save time that you can use to complete other tasks.
Losing focus is a common thing. That's why prioritizing is a must in creating your working plan. The 3D timeline allows you to see what's ahead of you and focus on urgent things. ZenDay re-organizes your to-dos each time you complete a task.
You can work on something, get your job done very quickly, but, without evaluating your work, you don't reach consistent conclusions. That is why debriefing is an important feature on the ZenDay list. It allows you to evaluate your previous weeks. By using it, you get the chance to review your past activity and compare it to your actual one. Also, being aware of your achievements makes you more confident and you will automatically become effective and motivated.
Scheduling tasks and meetings can be very annoying sometimes. If your calendar is a mess, so is your work. Keeping your stuff in just one place is helpful. ZenDay iOS app gives you this possibility with just one screen tap. After creating a new event or adding a task, you are free to name it. After that, you're done.
ZenDay syncs with all your calendars, so you can manage all the things from your mobile device. So far, it is available on iOS and Android, but other platforms will be coming soon.
By simple drag & drop and re-ordering of your tasks, you can decide how they are prioritized. Setting a deadline or fixing time for each task is also possible. If you're preparing future events, you can add them to your schedule, even if they will take place in two months.
Traditional calendars are tricky business. ZenDay iOS app lets you view and edit your meetings and tasks in just one screen. There's no need to go through other forms. A thing that good mobile apps always respect: users don't want a complicated journey. They love simplicity. ZenDay took this into account by limiting its options to the very basic in order to make it quicker and easier to play with.
Other things you must know about ZenDay:
It is your new GPS. The app takes the address from your contact list (if you add it) - if there is one associated with the contact name. When you create an event or schedule a meeting, you can use the "Go to" or "Meet" action plus your contact name in order to find the right location.
By pressing on an existing event or fixed task, the app lets you move your events and tasks faster. How? When the Edit box pops-up, a blue circle appears. you can press, hold and move it in order to make the desired changes.
You can go back to your recent activities easier, by simply double tapping on that day's date.
Long story short (for future users):
In the "Manage" section you will find your task list, and you will be able to edit, repeat, delete or mark activities as "done" directly by tapping on them. By choosing "Change priorities", you can change your priorities easily. Last but not least, there's the debriefing screen that can be accessed right from the Task Center. This part will help you evaluate your work.
Conclusion:
Managing your time is tricky business. The good part is that it doesn't require extra skills. You only must have some knowledge of how to turn parts of your daily activity into habits. In time, this will help you achieve impressive results.
A time management app has the power to change your perspective. Aside from this, it reduces your stress level, it helps you stay focused on one single task and it gives you a sense of achievement.
YOU MIGHT ALSO BE INTERESTED IN
The Essential Role Of Trust In Product Development
As you get ready to build your product, you'll need a team you can trust to take the best possible decisions.